16 September 2014 13:47 (UTC+04:00)
691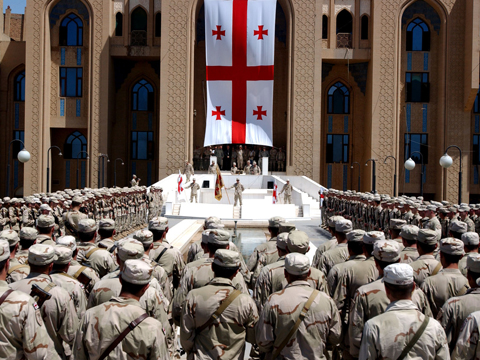 By Mushvig Mehdiyev
The first group of soldiers of the Georgian Armed Forces serving within the NATO peacemaking contingent in Afghanistan has returned back to Georgia.
The 149-member military personnel carried out special peacekeeping operations as part of ISAF forces in the aviation base of NATO in Kandahar, Afghanistan.
Commander of the special operation forces of the Georgian armed forces, vice-colonel Dimitry Kiknadze and U.S. military attache to Georgia, Matthew Dimick welcomed the peacekeepers in their motherland.
"The mountain-intelligence battalion of the special operation forces has served jointly with the coalition forces in Kandahar for six months," the Georgian Defense Ministry said on Sept. 16.
The servicemen, who were committed to protect the aviation bases in Kandahar and to patrol the province to provide the security of the residents, came back to Georgia without any loss. The rest soldiers of the battalion will return to the country within the next few weeks.
The first military unit of Georgian Armed Forces went to Afghanistan to conduct peacekeeping operations as part of ISAF forces in 2009. Representatives of the post-Soviet country's armed forces are leaving Afghanistan now, as the control over the security of Afghanistan will be transferred to national security forces by the end of this year.
Category News