9 September 2014 18:13 (UTC+04:00)
708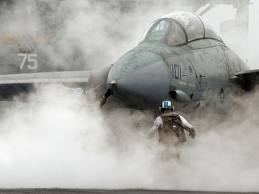 By Sara Rajabova
Iran, which made steadfast achievements in the military sphere, has overhauled F-4 and F-14 jet fighters successfully.
The Iranian army experts overhauled the F-14 fighter jet after 35,000 person-hour work at the Shahid Babaei air base in Isfahan, Iran's Tasnim news agency reported on September 9.
Also, an F-4 fighter jet was overhauled after 70,000 person-hour work at the Shahid Delhamed Air Base in Chabahar.
In recent years, Iran has taken great strides in defense sector and attained self-sufficiency in producing essential military equipment and systems.
Recently, the country has successfully test-fired an indigenously designed and manufactured Talaash 3 (endeavor) missile defense system.
Earlier, Iranian armed forces unveiled two marine cruise missiles, Ghadir and Nasr-e Basir, as well as two unmanned aerial vehicles, Karrar-4 and Mohajer-4.
Iranian media reported that the production lines will enhance the range and accuracy of the country's missile systems.
Also, Iran's military officials recently said the country's army is planning to hold military exercises of unmanned aerial vehicles (UAV) for the first time in the new future.
The Iranian media outlets say that the country has achieved great progress in the field of UAV manufacturing. Iran unveiled its first domestically manufactured long-range combat drone, the Karrar (Striker), on August 23, 2010. Since then the country has manufactured a variety of other high-tech surveillance and combat unmanned aerial vehicles. The country showcased its largest yet home-made UAV, titled 'Fotros' last November.
The first Iranian medium-altitude long-endurance UAV, the Shahed-129 was unveiled in September 2012, which is capable of carrying out combat and reconnaissance missions for 24 hours.
Iran started mass production of the "Yasir" UAV in September 2013. The UAV is equipped with light powerful modern cameras, and can precisely control the target. The Yasir UAV can be used for rescue, military operations and for controlling traffic.
Iran has also conducted several military drills to enhance the defense capabilities of its armed forces and to test modern military tactics and equipment.
Since 1992, Iran has manufactured its own tanks, armored personnel carriers, missiles, radars, boats, submarines and fighter planes. Tehran has frequently announced that its military might poses no threat to other countries, stating that its defense doctrine is based on deterrence.
Related News