25 April 2014 10:32 (UTC+04:00)
883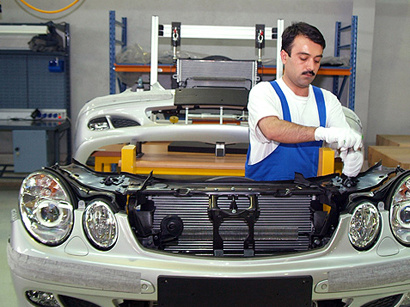 Iran has decided on a new move and will start implementing it starting from today with a view to support its struggling auto industry.
The country's central bank will allow the auto industry companies to purchase foreign currency by an official rate of 25,500 rials per each USD, IRNA news agency reported on April 24.
Iranian carmakers, while manufacturing the cars inside Iran, still need to import certain raw materials from other countries, which, in most cases, accept only USD.
Previously, the carmakers in Iran had to purchase the foreign currency based on the free market rate which is significantly higher than official rate. For example, the USD was sold for 33,290 rials at Iran's free market on April 24.
"Iran's economy suffers from both inflation and stagnation," Iranian minister of industry Mohammad Reza Nematzadeh said, adding that the inflation is now under control and administration has decided to take steps to eliminate the stagnation.
The inflation rate for the 12-month period in Iran reached 32.1 percent by the end of last Iranian calendar year (March 20).
The point-to-point inflation stood at 19.6 percent for the last Iranian calendar month of Esfand (Feb.20-March 20), which indicates also a fall by 0.4 percent compared to the previous month.
It should be recalled that the Western countries suspended certain sanctions against Iran as the Geneva nuclear deal came into force on Jan. 20. Iran was permitted to import materials for its auto manufacturing sector as a result of the nuclear deal implementation, which seems has led to sharp increase in country's auto exports in recent months.
Iran exported 10,744 sedans during the last Iranian calendar year, with some 4,231 of that amount only exported in the latest Iranian month.
Iran exported $27 million of sedan cars only in the last calendar month which is even more than half of the total yearly export value.
Iran produced 989,110 cars in 2012, which made it Asia's eighth largest car manufacturer, however the country's automobile output faced a 40 percent decrease in 2012 due to sanctions. Iran was Asia's 5th largest car manufacturer in 2011, with a total output of 1,648,505.
Related News