7 November 2018 14:58 (UTC+04:00)
1 104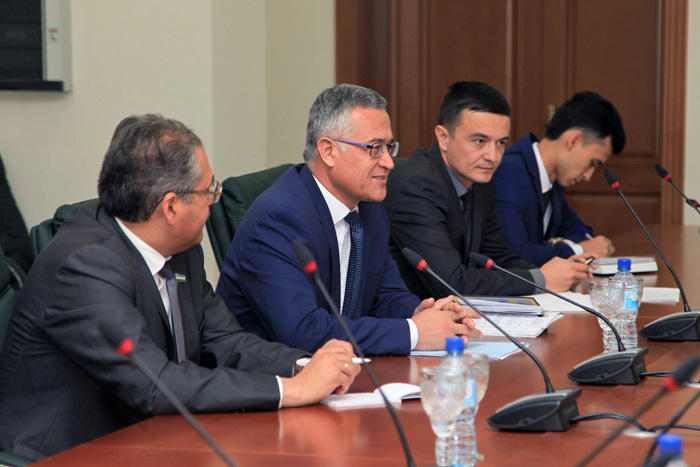 By Narmina Mammadova
Today, the textile industry is a priority industry in the field of attracting investments to Uzbekistan. Uzbek textile is considered one of the best in the world market. Thanks to the patronage of the state, various measures were taken to develop the industry in different years. First of all, foreign investors are attracted and the export item is being established.
Uzbekistan intends to seek zero rates of customs duties on textile products from the European Union, Podrobno.uz reported.
It was decided after the talks between the First Deputy Minister of Economy Mubin Mirzaev with members of the delegation of the European Parliament on relations with the countries of Central Asia and Mongolia headed by Iveta Grigule-Peterse.
During the meeting, the European side was proposed some priority areas for further expansion of economic cooperation.
First of all, it is important to create the equal conditions for access of Uzbekistan's textile products to the markets of EU countries, taking into account the ongoing reforms in agriculture. For example, zero rates of customs duties on textile products are established for individual countries of the world, while the customs duty on textile products for Uzbekistan is 7-12 percent.
The next is rendering assistance in ensuring the conformity of the quality of agricultural products with EU standards, increasing the personnel potential in this area.
Attraction of foreign investments from the EU countries for the implementation of projects under the PPP framework for the development of road and transport infrastructure, social services, housing and utilities, the development of alternative and renewable energy sources is also of great importance.
It is necessary to provide technical assistance to study the advanced European experience in improving the conditions of foreign trade and the liberalization of exchange controls.
The Textile Protocol came into force between Uzbekistan and the EU from July 1, 2017. It implies providing Uzbek producers with tax and customs benefits, as well as unhindered access to European markets.
Measures aimed at the development of the textile industry should help improve the level of development of the industry, the competitiveness of Uzbek textiles on the world market and, consequently, improve the economic situation of the country.
---
Follow us on Twitter @AzerNewsAz
Related News