17 October 2018 17:32 (UTC+04:00)
1 071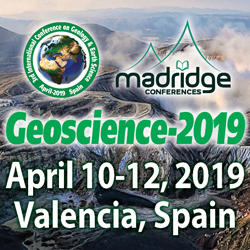 Third International Conference on Geology & Earth Science (Geoscience-2019) is going to be held during April 10-12, 2019 at Valencia, Spain.
GeoScience-2019 aims to discover advances, practical experiences and innovative ideas on issues related to geology and earth science as well as a breadth of other topics. The geoscience-2019 conference creates a platform for expert's interaction, simultaneously with networking opportunities and also provides an opportunity to explore the innovative ideas of the other communities, companies, and associations.
This International Conference on Geology & Earth Science includes Plenary lectures, Keynote lectures and short courses by eminent personalities from around the world in addition to contributed papers both oral and poster presentations.
GeoScience-2019 covering a total of all disciplines in Earth Science & Global Geology
We invite the contributions related to Geoscience. You can submit your work in these broad themes.
Conference mainly focuses on:
Environmental Geology
Groundwater and Hydrogeology
Marine Geosciences and Oceanography
Seismology
Natural hazards & disaster management
Carbon farming &carbon cycle
Mineral Exploration
Remote Sensing and GIS
Volcanology and Tectonic Plates
Fossils and Paleontology
Soil Science
Issues in Global Warming and Climate Change
Geochemistry and Economic Potential of Rocks
Surface and Borehole Geophysics
Petrology
Paleoanthropology and Paleoclimatology
Teaching and learning in Geosciences
ORGANIZING COMMITTEE MEMBERS:
Baryshnikov Gennady Yakovlevich, President of the Association of Geomorphologists of Russia, Russia
Zakaria Hamimi, President of the Arabian Geosciences Union, Egypt
Leonid Vaisberg Abramovich, Academician of the Russian Academy of Sciences, Russia.
Fawu Wang, chair holder of UNESCO Chair on Geoenvironmental Disaster Reduction, Japan
Submit your abstracts at https://geoscience.madridge.com/abstract-submission
GeoScience-2019 is organizing an outstanding Scientific Exhibition/Program and anticipates the world's leading specialists involved in Geoscience Research. We welcome Sponsorship and Exhibitions from the Companies and Organizations who wish to showcase their products at this exciting event.
Event Website: https://geoscience.madridge.com/index.php

Register for the conference and book your slots at https://geoscience.madridge.com/register
Contact person:
A.Tejaswini Revathi
Category News