18 May 2018 18:11 (UTC+04:00)
2 622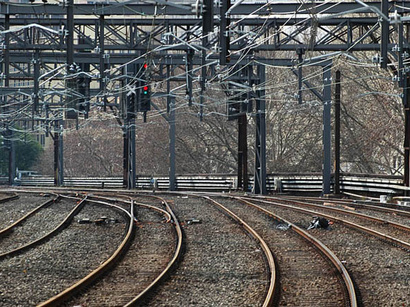 By Trend
Iran's Bank of Industry and Mine signed a finance contract with Russian Vnesheconombank(VEB) bank for financing a major project for electrifying Iran's northern railway system.
The contract was signed between officials of the two banks in Russia May 16, the Iranian bank said on its website.
Electrifying of the 450-kilometer-long Garmsar-Incheh Boroun Railroad in northern Iran with a credit line worth 1.2 billion euros will be implemented in cooperation with Russia in 2018.
The initial agreement for the big project was signed in 2015. Based on the agreement, the project will take three years to complete. Iran's northern rail network starts from Garmsar Station in Semnan Province and passes through Mazanadaran Province to end at Gorgan Station.
The contract covers design, sourcing of materials and equipment and construction of stations and tunnels, traction substations, section pillars, duty posts of the contact station and the power supply administration building.
The Russians have also announced readiness to electrify the 600 km railway route between Tehran and the northwestern city of Tabriz, which is also eyed by the Germans and Italians.
Iran's Bank of Industry and Mine has already signed a contract with China's Exim Bank (the Export-Import Bank of China) to finance $1.5 billion for electrifying of Tehran-Mashhad railroad.
The bank has also managed to attract a $400-million credit line from India's Exim Bank and a $100-million credit line from South Korea. India's Exim Bank also extended a credit line worth $150 million to Iran in February 2016 for supplying 150,000 tons of rail tracks.
The Iranian bank has also signed a finance deal for a project, worth $1.8 billion for the electrification of a high-speed rail link between the cities of Tehran, Qom and Isfahan, which will be carried out by China Railway Group Limited (CREC).
---
Follow us on Twitter @AzerNewsAz
Category News