26 November 2017 14:44 (UTC+04:00)
1 753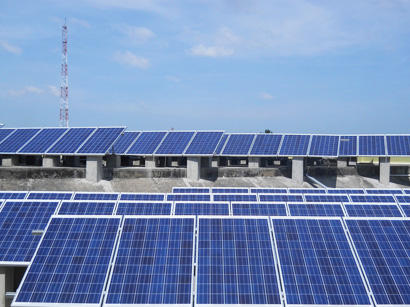 By Trend
Although the share of renewable energy sources (RES) within the Iranian power generation still remains low, the capacity of the country for power production from renewables has significantly increased.
According to the latest statistics by Energy Ministry of Iran, the capacity of renewables for power generation grew by 22 percent over the first seven months of the current fiscal year (started March 20) compared to the same period last year. However, the renewables only took a share of 0.4 percent (322 megawatts/MW) of the country's total power generation capacity.
In the meantime, the nominal capacity of Iranian power plants has increased by 1.3 percent to stand at 77,446 megawatts (MW).
The capacity of gas-fired power plants in this period grew by 1.1 percent to reach 27,258 MW, accounting for a share of 35.1 percent of the country's total power generation.
Combined-cycle power plants added 1.6 percent to their capacity to stand at 19,790 MW, taking a share of 25.6 percent of the country's power generation.
Hydroelectric power plants took a share of 15.3 percent of the country's nominal capacity for electricity generation. The nominal capacity of hydroelectric power plants increased by 2.6 percent to post 11,811 MW.
The capacity of distributed power generation (DG) as well as combined heat and power (CHP) systems increased by 12.1 percent to reach 1,027 MW. Some 1.3 percent of the country's total generation capacity went to the DG and CHP systems.
The capacity of thermal power plants stood at 15,829 MW and did not demonstrate any changes compared to the preceding year. The share of thermal power plants was 20.4 percent.
Diesel power stations accounted for 0.6 percent of the total generation capacity of the country, producing 439 MW. The capacity of diesel power plants did not see any changes either.
Iran has launched 37 projects to increase its capacity for producing power from solar energy by 400.27 MW. The country has also four projects under construction for producing 198.2 MW from wind.
Iranian power plants generated over 217.29 terawatt hours (TWh) of electricity since the beginning of the current Iranian fiscal year, 7 percent more year-on-year.
---
Follow us on Twitter @AzerNewsAz
Related News