26 December 2016 17:29 (UTC+04:00)
2 787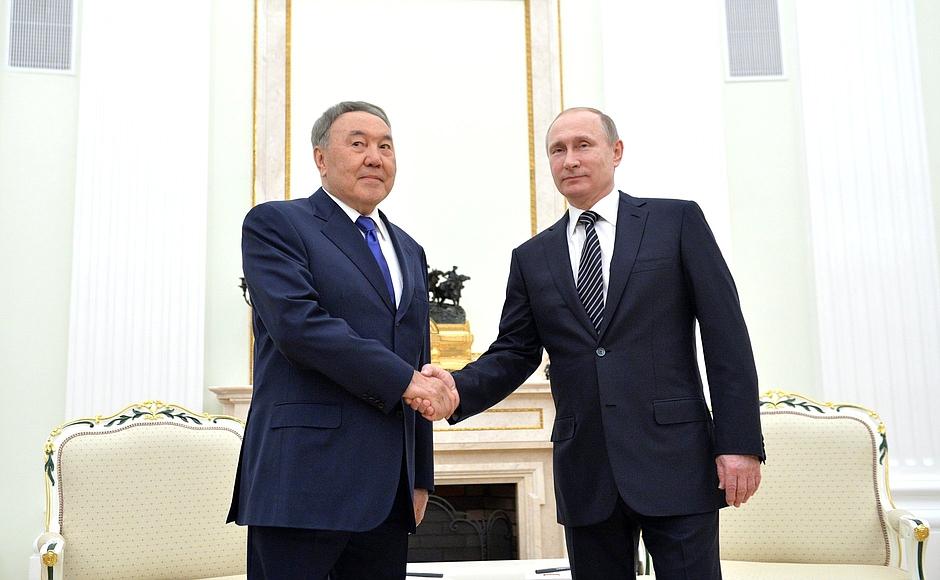 By Nigar Abbasova
Moscow and Astana have exchanged views on a number of issues as Kazakh President Nursultan Nazarbayev and his Russian counterpart Vladimir Putin met on the sidelines of the 20th Saint Petersburg International Economic Forum (SPIEF) on December 26.
The heads of states discussed a wide range of topics, including key spheres of bilateral cooperation and development of integration processes within the framework of the Eurasian Economic Union (EEU), as well as a number of regional and global issues.
"Kazakhstan is an active participant of integration processes, which have a favorable impact on all member states of the EEU," Putin said during the meeting.
Following the talks, the two countries signed a concept of cooperation at the Baikonur complex. The document was signed by Russian Deputy Prime Minister Dmitry Rogozin and Kazakhstan's First Deputy Prime Minister Askar Mamin.
Besides, the two countries introduced changes to the agreement on the status of the city of Baikonur, the establishment and status of its executive bodies, dated December 23, 1995. The protocol was signed by Russia's Roscosmos State Corporation General Director Igor Komarov and Kazakhstan's Minister of Defense and Aerospace Industry Beibut Atamkulov.
The new agreement will allow Kazakhstan and Russia to successfully develop cooperation in the space sphere, Nazarbayev said during his meeting with Putin.
"We are about to adopt a new eight-year road map to be effective until 2025, there are also plans for a new rocket… This will be the special feature of bilateral cooperation at Baikonur which will pave the way for further activities," Nazarbayev said.
The Baikonur Cosmodrome is an international facility in Kazakhstan for operating Russian and multinational space programs. Russia has leased the Baikonur space center until 2050.
Moreover, the Kazakh leader confirmed that Kazakhstan will create the necessary conditions to organize negotiations on Syria between Russia, Turkey and Iran.
The Kazakh president said he shared the proposal with Turkish and Iranian counterparts, Recep Tayyip Erdogan and Hassan Rouhani, on the phone Sunday. "They all agree, we will create all the conditions for them to work and meet," he said.
The sides also visited the laboratories of BIOCAD pharmaceutical plant as well as got acquainted with the production technology and product samples at the Diakont plant in St. Petersburg.
During his Saint Petersburg visit, Nazarbayev also will take part in a meeting of the Supreme Eurasian Economic Council and a meeting of the CSTO Collective Security Council.
--
Nigar Abbasova is AzerNews' staff journalist, follow her on Twitter: @nigyar_abbasova
Follow us on Twitter @AzerNews
Related News