22 June 2015 17:30 (UTC+04:00)
939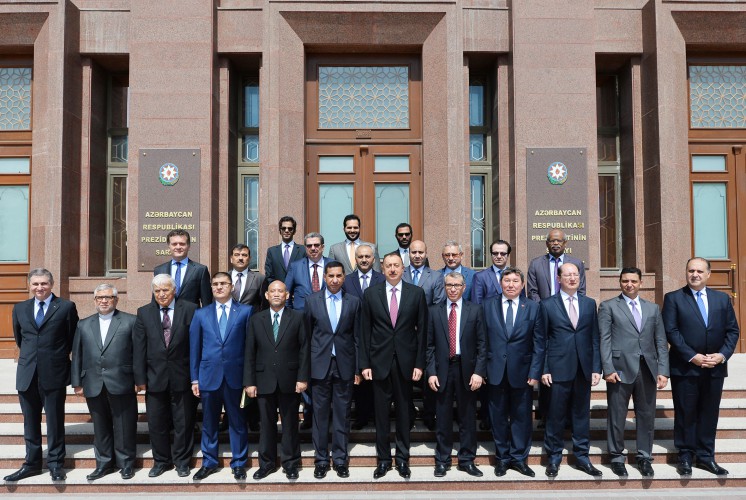 By Sara Rajabova
Azerbaijan, as the whole Muslim world celebrates the holy month of Ramadan, which is one of the most important events in the Islamic religion.
President Ilham Aliyev held his traditional meeting with ambassadors of the Muslim countries to the country on the occasion of the holy month of Ramadan on June 22.
The head of state made a speech at the event.
Then, Heydar Shiya Gubeyshi Al-Barrak, Iraqi ambassador to Azerbaijan addressed the meeting.
Ramadan month commenced in Azerbaijan on June 18.
Muslims are called upon to use this month to re-evaluate their lives in light of Islamic principles. They are to strengthen ties with family and friends, do away with bad habits -- essentially to purify their lives, thoughts, and emotions.
Fasting is one of the Five Pillars of the Islamic religion and one of its main practices. The resulting hunger is seen as a means of developing sympathy for the less fortunate, while learning to be humble and appreciate all of God's bounties.
Muslims worldwide fast during the daylight hours during Ramadan. For 30 days, they do not eat, drink, smoke or engage in sexual intercourse during fasting hours, testing their patience and ability to overcome temptations.
Ramadan, also known as the "Sultan of Eleven Months," brings worshippers closer together around one table, and teaches them love for God, love for life as presented by God to each being, and to share both material and moral wealth.
--
Sara Rajabova is AzerNews' staff journalist, follow her on Twitter: @SaraRajabova

Follow us on Twitter @AzerNewsAz
Related News