10 April 2014 11:41 (UTC+04:00)
886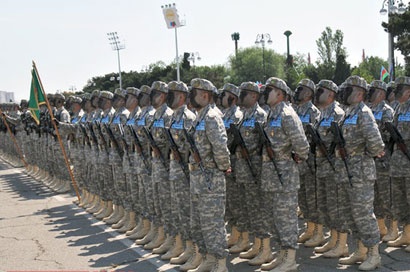 By Sara Rajabova
Some 34 Azerbaijani servicemen serving in Afghanistan returned home on April 9 on a rotation basis, Azerbaijan Defense Ministry said.
Currently, 94 soldiers, two military doctors and two engineer officers of Azerbaijani Armed Forces are involved in international peacekeeping mission in Afghanistan.
Azerbaijani servicemen served within the International Security Assistance Force in Afghanistan (ISAF).
The Azerbaijani peacekeeping contingent in Afghanistan doubled in 2009. Currently, some 90 Azerbaijani servicemen are serving in the ISAF.
The peacekeeping battalion of the Azerbaijani Armed Forces, comprising 22 members, began to participate in the ISAF in Afghanistan from November 20, 2002.
A company and then a battalion of peacekeepers were established as part of the Azerbaijani armed forces in 1997.
Additionally, two surgeons and two sapper officers were sent to Afghanistan from Azerbaijan on October 5, 2010.In the past, Azerbaijan has also actively supported the NATO's operations in Kosovo.
Azerbaijan is among the eight partner countries that have confirmed their presence in Afghanistan after 2014. Peacekeepers of the country will stay in Afghanistan after the withdrawal of U.S. troops from the country by the end of 2014. However, Azerbaijan will reduce its presence in Afghanistan after 2014.
Related News