5 December 2013 10:04 (UTC+04:00)
1 716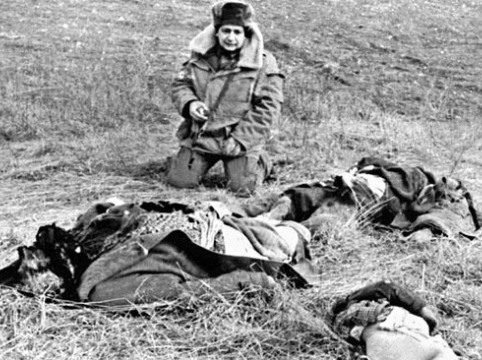 By Sara Rajabova
The Lithuanian Center for Geopolitical Studies has announced a competition dedicated to the 22nd anniversary of Khojaly genocide, committed by Armenian armed forces in early 1990.
The competition was announced with the support of the Council of State Support to NGOs under the Azerbaijani President.
Lithuanian politicians, scientists, historians and public figures will submit the best research works on the Armenian-Azerbaijani Nagorno-Karabakh conflict, as well as Khojaly genocide, for participation in the contest.
The competition is aimed at raising awareness in the Lithuanian community about the realities the Khojaly genocide and Nagorno-Karabakh conflict.
The Council of State Support to NGOs will award seven authors with money prizes for the best research article.
The winners will also attend a "round table," which will be held in Azerbaijan. The winning articles will be published in a book .
The conflict between the two South Caucasus countries began in 1988 when Armenia made territorial claims against Azerbaijan. Armenian armed forces have occupied 20 per cent of Azerbaijan since 1992, including the Nagorno-Karabakh region and seven surrounding districts.
In 1992, the town of Khojaly, situated within the administrative borders of the Nagorno-Karabakh region of Azerbaijan, came under intensive fire from the towns of Khankendi and Askeran already occupied by Armenian armed forces. The Armenian forces, supported by the ex-Soviet 366th regiment, completed the surrounding of the town already isolated due to ethnic cleansing of the Azerbaijani population of the neighboring regions. The joint forces occupied the town, which was ruined by heavy artillery shelling.
Thousands of fleeing civilians were ambushed by the Armenian forces. Punitive teams of the so-called Nagorno-Karabakh defense army reached the unprotected civilians to slaughter them, mutilating some of the bodies. 613 civilians, including 106 women, 70 elderly and 83 children, were killed in the massacre. A total of 1,000 civilians were disabled. Eight families were exterminated, and 25 children lost both parents, while 130 children lost one parent. Moreover, 1,275 innocent people were taken hostage, while the fate of 150 remains unknown.
Related News