26 June 2013 15:03 (UTC+04:00)
941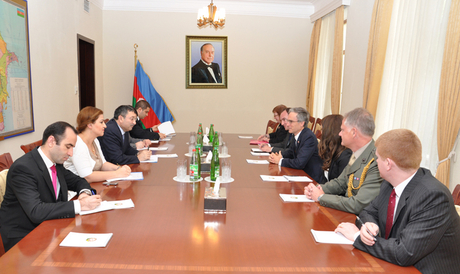 Azerbaijan`s Deputy Foreign Minister Khalaf Khalafov has met Andrew Murrison, British Parliamentary under Secretary of State for International Security Strategy at the Ministry of Defence.
Khalaf Khalafov praised the Azerbaijani-British relations. He also hailed political dialogue between the two countries, as well as economic cooperation.
On the role of British companies in implementing regional projects with participation of Azerbaijan, Khalafov said bilateral fruitful cooperation opened new opportunities.
He also touched upon the Armenia-Azerbaijan Nagorno-Karabakh conflict, calling it the main obstacle for the region`s development.
The deputy FM stressed the necessity of increasing the world community`s attention to Armenia`s occupation of Azerbaijani lands.
Andrew Murrison praised cooperation between the two countries.
He said there was great potential for boosting the relations in a variety of fields.
On Azerbaijan`s active role in international peacekeeping operations, Murrison hailed the country`s contribution to NATO`s peacekeeping operations in Afghanistan.
Related News