20 February 2013 17:57 (UTC+04:00)
813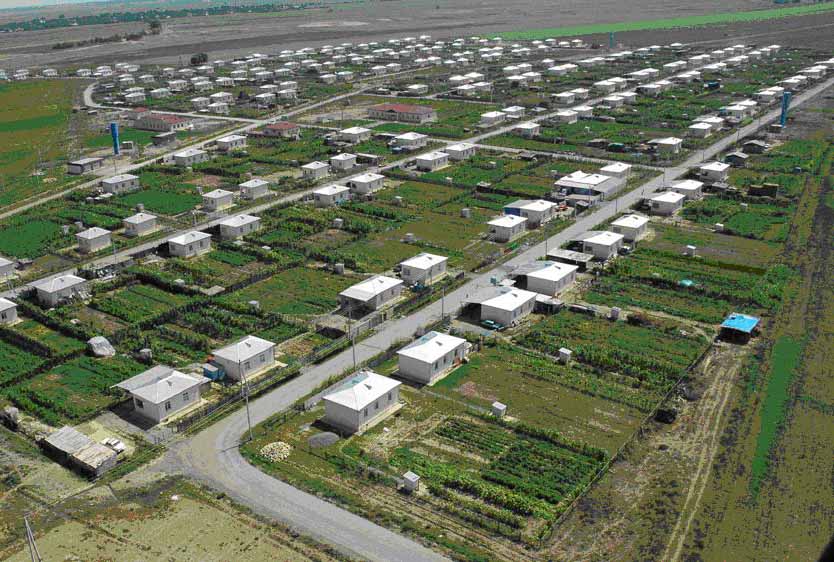 By Sara Rajabova
Nearly 1.16 billion manats (about $1.47 billion) were allocated from the Azerbaijani state oil fund SOFAZ from 2001 through 2012 to improve social and living conditions of refugees and IDPs displaced from their homes during the 1990s war with Armenia, according to a SOFAZ statement.
The fund allocated 300 million manats for the purpose in 2012.
Over the period from 2001 to 2012, 61 settlements, 38 buildings and 20,778 homes -- including the completion of 320 houses and construction of 100 houses in Nakhchivan Autonomous Republic -- as well as 53 schools, 41 kindergartens and 47 office buildings have been built. Also, 24 power stations were constructed, and 63,004 kilometers of roads, 627,889 kilometers of water pipes, 1,181,324 km of transmission lines, 201,986 kilometers of gas lines, and 34,577 miles of sewer lines were laid. An irrigation system on a land plot of 10,453 hectares was created along with building other facilities and undertaking a number of other activities.
Azerbaijan faces a long-standing conflict with Armenia, which flared up in the late 1980s due to Armenia's territorial claims against its South Caucasus neighbor and boiled into a brutal war in the early 1990s. Over one million citizens of Azerbaijan were left without permanent places of residence as a result of Armenia's military aggression. The displaced persons are temporarily settled in 62 cities and regions of Azerbaijan in more than 1,600 settlements.
Armenia invaded over 20 percent of Azerbaijan's historical territory - Nagorno-Karabakh and seven surrounding regions -- in the aftermath of the 1990s war. A fragile ceasefire has been in place since 1994, but long-standing efforts by US, Russian and French mediators have been largely fruitless so far.
SOFAZ was established in 1999 with assets worth $271 million. As of Jan. 1, 2013, SOFAZ assets amounted to $34.129 billion.
The main purposes of the fund are the accumulation of funds and placement of the fund's assets abroad to minimize the negative impact on the economy, preventing 'Dutch syndrome', to ensure savings for future generations and to maintain the current social and economic standards in the country.
Refugees' resettlement
Under a state program approved by President Ilham Aliyev in 2004, the refugees and internally displaced persons residing in the dormitories of Baku State University will be moved to a settlement built in the village of Mushvigabad starting in February or March.
Ali Hasanov, Deputy Prime Minister and chairman of the State Committee for Refugees and IDPs, said the resettlement process will begin with the advent of better weather conditions.
Hasanov said eight settlements and 4,000 apartments will be built for refugees and IDPs this year. Some 20,000 IDPs will be provided with apartments.
Around 300 million manats ($382 million) was sought from the state budget for these purposes in 2013.
Hasanov also said that construction of a settlement with 25 five-storey buildings in Ganja -- the country's second largest city -- and 15 five-story buildings on the site of a refugee camp in Barda is currently underway.
He added that such buildings will also be constructed in Absheron, Imishli, Garadagh, Ismayilli, Balakan and Gabala regions of Azerbaijan.
The Azerbaijani government continues taking measures to resolve the social problems of refugees and IDPs. Every year, a large amount of funds is allocated for this purpose from the state budget, the State Oil Fund, the state energy firm SOCAR and other sources.
Related News