20 October 2017 17:23 (UTC+04:00)
1 451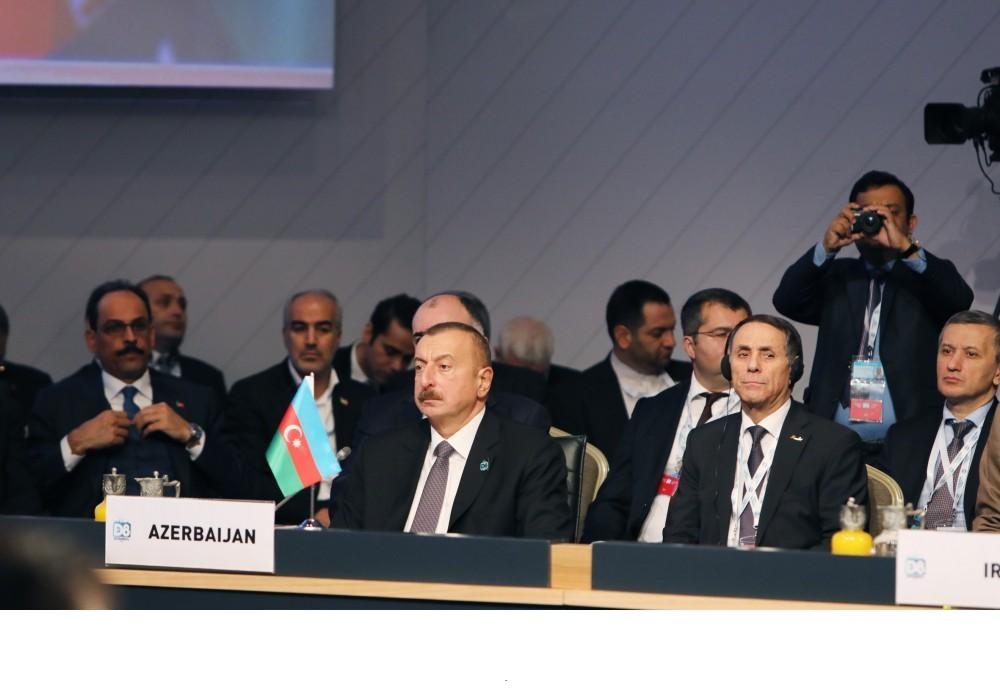 By Trend
A country destroying mosques can never be a friend of Muslim countries, President of Azerbaijan Ilham Aliyev said on October 20, addressing the 9th Summit of the Developing Eight Organization for Economic Cooperation (D-8).
President Aliyev is attending the Summit as a special guest.
Azerbaijani president first thanked Turkish President Recep Tayyip Erdogan for the invitation and hospitality.
"Despite the fact that Azerbaijan is not a member of D-8, President Recep Tayyip Erdogan invited Azerbaijan to this event. I express my deep appreciation," the president said.
"The Summit of "Big Twenty" was held in the Turkish city of Antalya in November 2015. Turkey could invite only one country, that is not a group member, to this meeting as a special guest, and President Recep Tayyip Erdogan invited Azerbaijan. This is another illustrative example of Azerbaijani-Turkish brotherhood and friendship," Ilham Aliyev noted.
The head of state drew attention of the meeting participants to the Armenian-Azerbaijani Nagorno-Karabakh conflict.
"Armenia has been occupying Azerbaijan's historical lands – Nagorno-Karabakh and seven surrounding districts – for more than 25 years. A policy of ethnic cleansing was carried out in these territories, and more than one million our compatriots became refugees and IDPs. In 1992, Armenia committed the Khojaly genocide. As a result of this war crime, 613 innocent Azerbaijanis were killed, 106 of them being women and 63 children. Thousands of people were injured and went missing."
"The UN Security Council adopted four resolutions in connection with the conflict. These resolutions demand immediate and unconditional withdrawal of Armenian Armed Forces from Azerbaijani lands. At the same time, the Non-Aligned Movement, the Organization of Islamic Cooperation, the OSCE and other organizations adopted similar decisions and resolutions. However, being an occupant, Armenia ignores these decisions and continues war crimes against the civilian population," Ilham Aliyev said.
The president reminded that soldiers and civilians were killed on the line of contact in April 2016 as a result of Armenia's armed attack.
"Hundreds of houses were destroyed. Azerbaijan decisively suppressed this Armenian provocation, and our army liberated a part of our lands from Armenian occupants. After this, the Jojug Marjanli village, completely destroyed by Armenia, was rebuilt. A school, a medical center and a mosque were built in this village consisting of 150 houses. This mosque is similar to the mosque, destroyed by Armenians in Shusha," President Aliyev noted.
Ilham Aliyev said that Nagorno-Karabakh is historically an Azerbaijani land.
"The Armenian-Azerbaijani Nagorno-Karabakh conflict must be resolved within the territorial integrity of Azerbaijan, based on the UN Security Council resolutions. The Azerbaijani state and Azerbaijani people will never allow creation of the second so-called Armenian state on their native land. The territorial integrity of our country is not and will not be the subject of negotiations."
President Ilham Aliyev pointed out that Azerbaijan attaches particular importance to Islamic solidarity and makes its contribution.
"2017 was declared the Year of Islamic Solidarity in Azerbaijan. At the same time, this year Azerbaijan held the 4th Islamic Solidarity Games, where about 3,000 athletes from 54 Muslim countries participated. Today we actively fight Islamophobia, which is one of the most serious threats in the world. Armenia, trying to present itself as a friend of Muslim countries, destroyed mosques and religious monuments in Nagorno-Karabakh and the surrounding regions. The country destroying mosques can never be a friend of Muslim countries," he noted.
The head of state added that two days ago, Azerbaijan marked the 26th anniversary of restoration of independence.
"Our country has passed a successful path of development in a short period. Starting from 2004, our economy has grown more than threefold, about two million jobs have been opened. The poverty level decreased to five percent. The literacy rate is 100 percent. Our foreign currency reserves are equal to the country's gross domestic product. Foreign state debt is less than 20 percent of GDP. This success of Azerbaijan is also noted by international organizations. Azerbaijan ranked 35th in the Davos Economic Forum's report on competitiveness rating this year," said the president.
The head of state noted that Azerbaijan is an initiator and active participant of international projects.
"Today, together with our partners, we are implementing the Southern Gas Corridor project. It is one of the biggest infrastructure projects in the world. The agreement between Azerbaijan and Turkey on the TANAP gas pipeline, which is the main part of the Southern Gas Corridor, was signed in Istanbul in 2012, and this gas pipeline will be commissioned next year," said President Aliyev.
"The Baku-Tbilisi-Kars (BTK) railway, the official opening of which will be held soon, will be the shortest route between Europe and Asia. Azerbaijan invests heavily in the creation of the East-West and North-South transport corridors. These transport corridors will open new opportunities for the economic development of Eurasia. Thank you for attention," concluded the Azerbaijani president.
---
Follow us on Twitter @AzerNewsAz
Related News