EE Real Estate Forum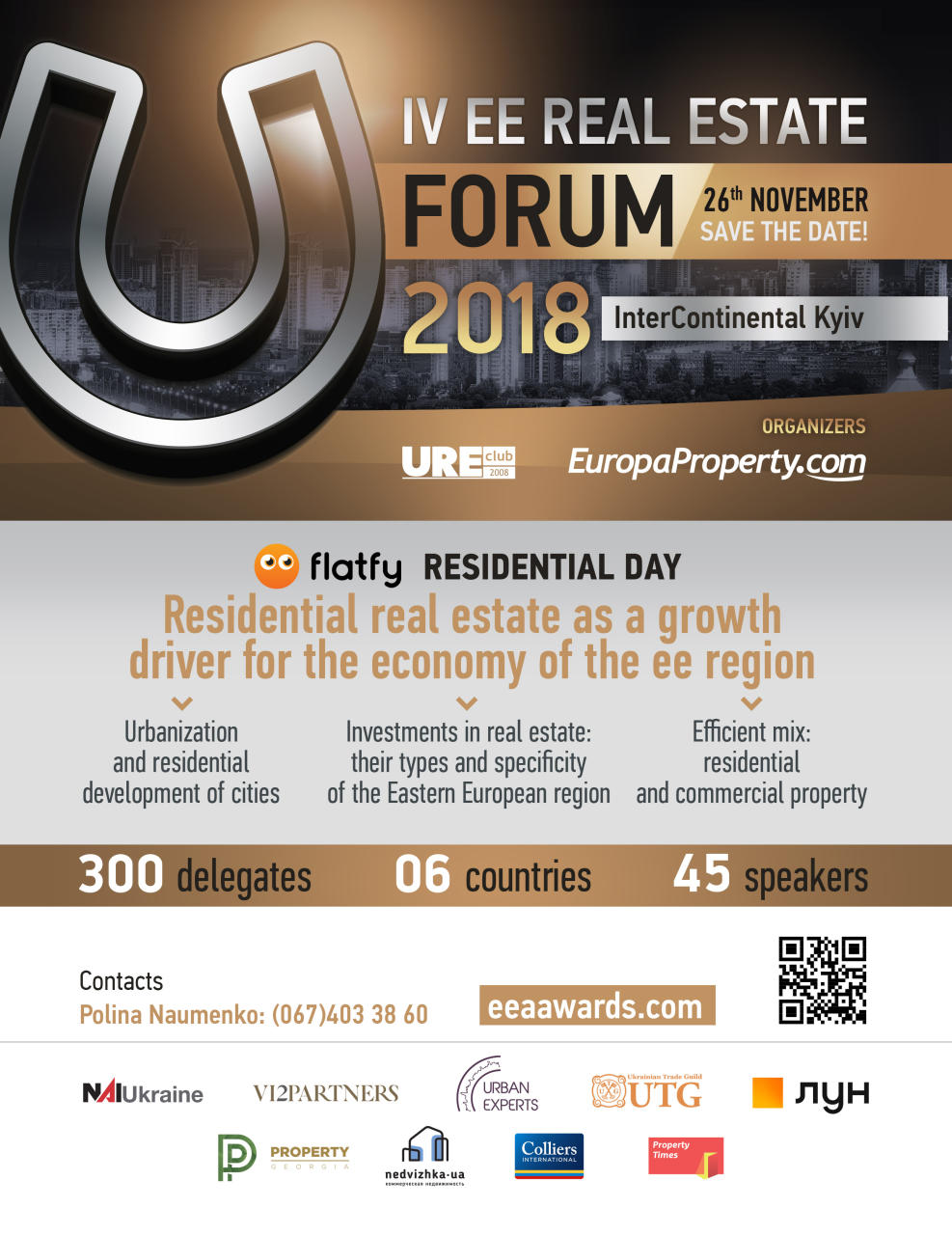 EE Real Estate Forum
26 November 2018, URE Club business association, in cooperation with Europaproperty.com publishing house, is holding the annual EE Real Estate Forum for companies dealing in real estate. The key theme of this year's event is "Residential real estate as a driving force for regional economic growth". InterContinental Hotel will be hosting the forum for the fourth time in a row.
This year's event will bring together real estate experts from Ukraine, Kazakhstan, Azerbaijan, Georgia, Belarus, Moldova, and Poland.
The forum will provide a platform for dialogue between businesses, the government, and the general public.
Why visit Flatfy Residential Day?
From year to year, the event calls together acknowledged international experts in real estate, architecture and design, consulting and project management.
The annual forum brings together professionals with years of experience, who share their insights into the legal and economic aspects of real estate market development; problems and drivers of urbanization; social angle of property development and potential dividends for businesses; effective marketing strategies.
The event provides a perfect opportunity for you to cultivate business contacts, find out what is going on in foreign real estate markets, learn about the latest trends, and figure out how to deal with the challenges arising in real estate.
Developers agree that from a strategic perspective, the future belongs to co-living and co-working spaces. The new generation is dictating trends to developers: millennials prefer freedom to crowded offices, they no longer want their homes to be their castles, so they opt for shared spaces. In Poland, property developers have already started to implement such projects, and they are well on the way to the Ukrainian market. When will they actually hit our local market and what do we need to do to make it happen? Our experts will answer these questions during the forum. In addition, they will talk about the centres of attraction, the new form of real estate in Europe, also referred to as the smart format.
This year's programme includes the following topics:
● Legal aspects and cooperation with public authorities when working with investors.
● Urbanization and urban development.
● Investment discussion panel, where we will talk about the major opportunities for investors and tools for attracting foreign investment.
● As part of the discussion panel, IT start-up Flatfy will make a comparative review of residential real estate in the countries of the region.
The programme of the forum has been developed by the experts from Europaproperty.com, in cooperation with URE Club, which are the successful companies dealing in real estate for over a decade. The programme is focused on providing the guests and participants with reliable information on each region, with a view to help to determine their investment attractiveness.
Location: InterContinental Hotel, 2a Velyka Zhytomyrska, Kyiv, Ukraine
Contact person: Tsisnami Vasadze, [email protected], +380 67 508 80 81