16 February 2017 12:50 (UTC+04:00)
10 756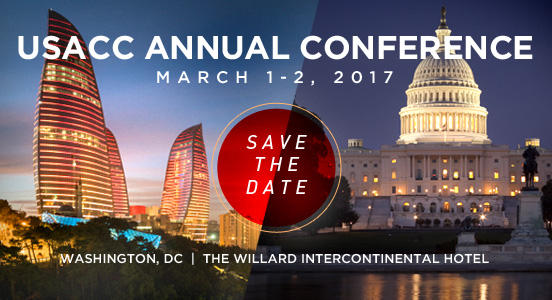 The 2017 USACC Annual Conference scheduled for March 1-2 promises to bring together key stakeholders and thought leaders from the U.S. and Azerbaijan to address key issues pertinent to bilateral business and trade relations.

The theme of this year's conference is the celebration of 25 years of established and ongoing diplomacy, trade, investment and business relations between the U.S. and Azerbaijan.
Agencies and companies already confirmed to attend the 2017 USACC Annual Conference are the following:
ATC
AmCham Azerbaijan
American Foreign Policy Council
Anglo Asian Mining PLC
APCO Worldwide
Atlantic Council
Azerbaijan Ministry of Economy
Azerbaijan National Academy of Sciences
Azerbaijan State Agency for Alternative & Renewable Energy
Azersun Holding
AzPromo
Baker Mckenzie
Baku Consulting Group
BNY Mellon
BP
Carnegie Endowment for International Peace
Caspian Policy Center
Center for Analyses of Economic Reforms and Communication
Chevron
Claret Consulting
Clark Technology
C.L. Russell Group
Corsair
CSIS
Cutler International
Defense International
Deloitte
Dentons
EBRD
Ekvita
Elizarov Consulting Group
Embassy of Afghanistan
Embassy of Azerbaijan
Embassy of Georgia
Embassy of the United States to Azerbaijan
ExIm Bank
Expert SM
E3 International
FINCA
Flier Group
Gilan Holding
Global Chamber
Grata
John Deere
IMA Strategy
Kapital Bank
KredAgro
Macro-Advisory Ltd.
Maroon Capital
Mega Sigorta
Obie Technologies
Office Systems
OPIC
Oracle
PASHA Bank
PMD Group
Project Finance Advisors
PwC
Seabak
Sidar Global
SOCAR
SOCAR Turkey
Sierra Nevada Corporation
SW Associates
Synergetic Information Systems
TANAP
TERA International
USACC
U.S. Department of Commerce
U.S. Department of State
U.S. House of Representatives
U.S. Trade Representative
Veyseloglu
WCC International
Participants will be able to hear firsthand of the myriad business, growth and investment opportunities in Azerbaijan through various panel discussions.
The panels will focus on recent economic reforms, investment environment, public-private partnerships, trade and commercial opportunities for American companies in Azerbaijan. Azerbaijani companies will learn about the products, services, technology and investment opportunities that American companies have to offer.
Visit the website regularly to stay up-to-date on the latest conference information including program updates, speakers, sponsorship, venue, registration and list of participating companies and government agencies.
--
Follow us on Twitter @AzerNewsAz
Category News