15 December 2016 12:15 (UTC+04:00)
13 861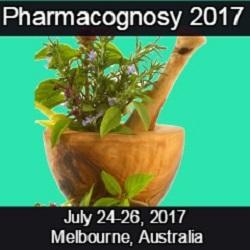 Conference Series LLC invites all the participants across the globe to attend the 5th International Conference and Exhibition on Pharmacognosy, Phytochemistry & Natural Products July 24-26, 2017 Melbourne, Australia.

The scientific program will focus on current advances in the research and leading strategies in plant and herbal medicine and its development with a theme "New Trends & Effective Strategies for Medicinal & Natural Products". Pharmacognosy 2017 is a remarkable event which brings together a unique and international mix of Pharmaceutical, Biotech and Herbal Companies, leading universities and research institutes working in the field of plant and Natural herbal products, making the conference a perfect platform to share experience, foster collaborations across industry and academia and share emerging scientific updates across the globe by means of thought provoking Keynote presentations, Oral talks and Poster presentations.
Pharmacognosy 2017 will schedule and coordinate all meetings with our Editorial Board Members and other experts in the Pharmacognosy, Phytochemistry & Natural Products fields across the world. The pharmacognosy conference scientific program paves a way to gather the latest information through research talks and presentations and puts forward many thought provoking strategies.
Pharmacognosy plays an important role in the study of crude drugs that include plant, animal and marine sources. The subject deals with the discovery, characterization, production and standardization of drugs from natural sources and forms a basis in the study of Nutraceuticals and Cosmeceutical.
Highlights:
Pharmacognosy
Phytochemistry
Natural Products
Herbal Drugs and Formulations
Drugs from Natural Sources
Toxicology Studies of Plant Products
Industrial Pharmacognosy
Ethnopharmacology
Natural Products of Medicinal Interest
Aromatic Plants
Crude Drugs and Plant Products
Herbal System of Medicine
Plant Biotechnology and Tissue Culture
Phytoconstituents
Plant Physiology
Plant Biochemistry
Analytical Techniques in Phytochemistry
Plant Extraction Methods
Applied Plant Sciences
Entrepreneurs Investment Meet
Venue Details
Melbourne VIC 3000, Australia
Why to attend
Pharmacognosy has played a pivotal role in the discovery and development of new drugs and therapies, and has been continuing to do so even today. Current research in drug discovery from medicinal plants involves a multifaceted approach combining botanical, computational, phytochemical, biological, and molecular techniques. It is evident that drug discovery from medicinal plants continues to provide new and important leads against various pharmacological targets including cancer, HIV/AIDS, Alzheimer's, malaria, and pain. Several natural product drugs of plant origin have either recently been introduced or are currently involved in late-phase clinical trials.
Pharmacognosy 2017 anticipates international keynote lectures, oral presentations by renowned speakers and poster presentations by students, Pharmacognosy Exhibitions and delegates from all around the world which will craft a platform for global promotion of safe and effective natural therapies. It provides international networking and opportunities for collaborations with worldwide companies and industries. It promotes better understanding by the general public about the importance of Natural Products in prevention, diagnosis and treatment of diseases.
With members from around the world focused on learning about Pharmacognosy, Phytochemistry and Natural Products, this is the best opportunity to reach the largest assemblage of participants from the Marine Science and Plant Science. This global event will be an excellent opportunity to conduct presentations, distribute information, meet with current and potential scientists, make a splash with new advancements and developments, and receive name recognition at this 3-day event. World-renowned speakers, the most recent techniques, developments, and the newest updates in Plant Science are hallmarks of this conference.
Who Should Attend
University Faculties like Directors, Senior Professors/Assistant Professors/ Associate Professor, Research Scholars, scientists who are related to Plant and Natural Sciences.
Pharmacognosy Professionals
Botany Professionals
Plant Biotechnology/ Science professional
Marine Sciences Professionals
Plant ecology Professionals
Marine Biotechnology professionals
Natural Products industrialists
Plant and Marine Associations and Societies
R&D Laboratories
Category News