Anar, born to be writer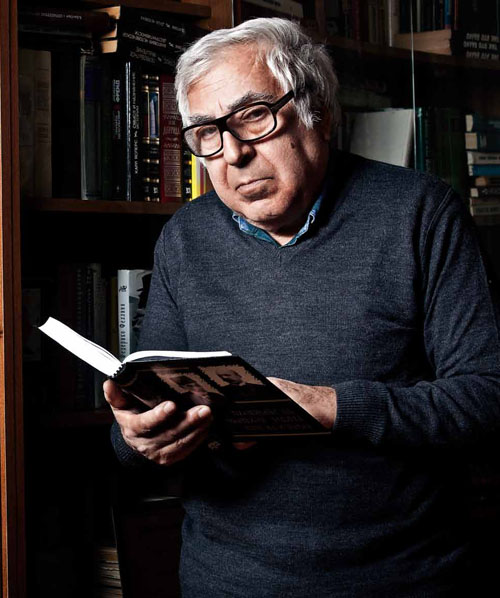 By Amina Nazarli
The talent of writing is a gift of God. A lucky artist is one who wins the hearts of millions of people through his or her creative works. Creative people are indeed unique.
Eminent novelist, playwright, screenwriter, translator Anar has greatly contributed to the national literature by adding a number of brilliant works to the word treasury.
His style of connecting the national culture with East and West cultures in an inner world so naturally and organically is really impressive.
Works of the mature artist with his fresh feelings, distinguish him as a master of stories with absolutely different look at things. His stories are read in one session, leaving a lasting impression on the reader.
In his literary works, the writer focuses on moral and philosophical issues of global importance and the philosophical power of his works is great. Life and death, kindness, humanity, and common human feelings constitute the main idea of Anar's works.
He is a witty observer who collects the life vitalities in his works full of deep philosophy, where everyone may find something connected with his/her life.
Anar is among a generation of writers called "the sixties", who are supposed to be the carriers of new ideas, new vision and new concept of thinking.
His literary characters are contemporary people, facing a number of problems posed by traditional concepts and mentality.
Genetic roots have created a healthy soil for his creative growth. The national writer follows the footsteps of his parents. His father Rasul Rza and mother Nigar Rafibeyli were great poets and outstanding public figures in Azerbaijan. He was born and grown up in a literary atmosphere.
However, Anar became famous not because of his parents, but because of the dint of his perfect talent, which distinguishes him from many others. It seems he was born to be a writer.
Many say that children of writers are doomed to be writers. "If a person is talented, he or she will manifest itself regardless of his/her origin. But if he/she has no talent, no family tradition will help them," Anar believes.
An important part of his talent is manifested in the story "The Last Night of the Outgoing Year" which was subsequently filmed. He participated at a shooting as a screenwriter. At the age of 23, he could clearly convey the melancholy of a single mother.
Anar created a character of an old-age mother who really sacrificed her life to protect her hearth and family.
Writing his first works at the age of 14, Anar read them to his parents. Anar's father was strongly against the "philological dream" of his son. Rasul Rza believed that educations like engineering or medical are more important. He considered writing just as a hobby, which you may be engaged in after gaining a prestigious profession.
Anar's strong loyalty to his talent soon made his parents to give up and finally support him.
22-year-old Anar succeeded to publish his first two stories -- "The Last Night of the Outgoing year" and "In Anticipation of the holiday" -- in Azerbaijan magazine in 1960.
Anar's plays were staged in all Azerbaijani theaters. More than 60 books were translated into foreign languages and were published outside of the country. Anar, who is the Chairman of the Azerbaijan Writers Union is the writer of the scripts of 15 feature films. He directed three of them himself. He also made more than 10 documentaries and television movies.
Almost all of his works - both in prose and in the film- were initially received with hostility, but after some years they took their rightful place in the literature.
The poet says despite he is 76 years old, he feels himself as young as in his 20-30 years. The famous writer is optimistic believing that even the bitterest and most difficult situations can be overcome by laughter.
--
Amina Nazarli is AzerNews' staff journalist, follow her on Twitter: @amina_nazarli

Follow us on Twitter @AzerNewsAz