Ancient traditions of tea drinking in Azerbaijan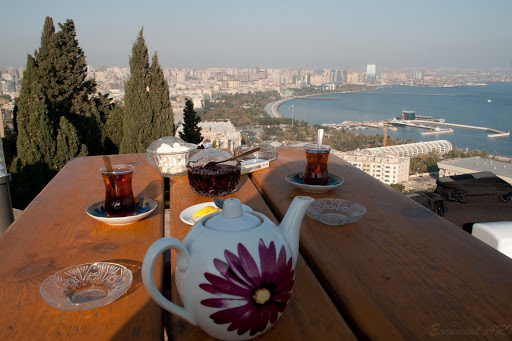 By Aynur Jafarova
Drinking tea in Azerbaijan is very pleasant due to the ancient traditions of tea ceremonies. Everyone who visits the country should take time to have tea at a traditional tea ceremony.
Azerbaijanis are very hospitable people and while visiting any home in Azerbaijan, you will be welcomed firstly by black tea. For the Azerbaijanis, serving tea at the beginning of a meal is considered to be a symbol of hospitality and is often accompanied by serving fig, strawberry, apricot, walnut, blackberry and other jams. The advantage of this tradition is that tea drinking with many guests at the table makes conversation flow smoother. Tea is also spiced with cinnamon, cardamom leaves or ginger for adding extra flavor.
Azerbaijanis usually don't put sugar in their tea; instead they dunk a piece of sugar in the tea, then bite a piece and sip their tea. According to a common belief, drinking tea in this complicated manner comes from the medieval times, when rulers who were afraid of being poisoned tested their tea by dunking a piece of sugar in the liquid. It was believed that the poison would react to the sugar.
Tea ceremonies have deep traditional roots in Azerbaijan. A traditional tea ceremony has its own rules and practices that are designed to make the serving and drinking process enjoyable. According to the old tradition, the host has to offer tea to every visitor, even if the visit is supposed to last only five minutes.
Tea is associated with warmth and friendliness, therefore, the tradition says that one should not allow the guest to leave the house without having at least one cup of tea.
A tea ceremony in Azerbaijan means freshly brewed, strong, bright-color, hot tea served in cups or crystal glasses, in particular, "armudu glass" i.e. "pear-shaped glass". Tea is served continuously when there are guests in the house or when there is an interesting conversation.
Armudu as symbol of tea ceremonies
Tea serving and drinking is an important component of Azerbaijani culture. No house would be com­plete without a set of Armudu glasses. Armudu or Boghmaliis a type of glass used for drinking tea in Azerbaijan. Armudu glass reminds the shape of a pear and is sometimes associated with the figure of a hostess in Azerbaijani culture. It is believed that the classic shape of Armudu represents the ideal figure of an Eastern woman or an 18 year old Azerbaijani girl.
The Armudu is made from a variety of materials, such as glass, porcelain, faience and silver. Besides the aesthetical qualities, the Armudu also has several differences and advantages from other glasses and cups.
Firstly, this type of glass is easy to hold because its top side is wider than the middle one, which prevents it from slipping out of your hand. Secondly, it is because the top part becomes less hot, which prevents the drinker from burning his hands. Thirdly, it was proven that unlike regular glasses and cups in which hot liquids cool equally, the hot tea in Armudu glasses proportionally cools at the time of drinking, allowing cooling of the tea in the top portion of the glass and keeping the bottom part hot.
An Armudu glass often weighs 100 grams. The tea is poured into the glass but not up to the top. Usually a gap of 1-2 cm, which is colloquially known as "dodag yeri" ("a spot for the lips"), is left for comfortable drinking.
Tasty samovar tea
The main thing in pouring tea is the selection of dishes and the water boiling technique. Generally, tea is poured into ceramic and china dishes. Water is boiled in various ways, in particular, in heated metal containers known as samovars. The smell and taste of fresh samovar tea is unique and inimitable.
According to some references, samovars were created in Russia, but a recent archeological discovery in Azerbaijan would suggest otherwise. Archeologist Tufan Akhundov, who unearthed a pottery-shaped samovar in Sheki, a town located at the foothills of the Caucasus, believes that this archeological finding is the oldest samovar ever unearthed -- possibly up to 3,600 years old.
The Lahij settlement in Azerbaijan's Ismayilli region is known for its copper samovars.
Shahid Habibullayev, an Azerbaijani collector of ancient samovars, has about 1,000 samovars. There is also a samovar monument in Lankaran, southern Azerbaijan, and a house in the form of a samovar in Naftalan, the central part of the country.
Tea houses
Azerbaijanis don't have a certain time for drinking tea. They have tea any time of the day or night. Tea is served everywhere, and it is an expression of the social lifestyle in Azerbaijan.
There is a "chaykhana", or tea house, in every corner of Azerbaijan. Historically women did not go to public places and "chaykhana" was reserved for men. The word "chaykhana" means a place where men have tea and this culture is as old and strong in Azerbaijan as pubs in Britain. Men sit in chaykhanas to pass time, tell stories and discuss politics, and play backgammon while drinking tea.
Tea at weddings
Azerbaijani people host various ceremonies around the tea table. Tea is served on any occasion -- from funerals to weddings.
The taste of sweet tea or unsweetened tea shows the agreement or rejection of the girl's parents to the marriage. If the woman's parents agree that the couple should be together, they serve tea with sugar at the end of the conversation; sugar is the key ingredient symbolizing their agreement. Unsweetened tea is a sign of rejection.
If you visit Azerbaijan, the Land of Fire, you should definitely taste its tea. Azerbaijanis say "Çay nədir, say nədir", which can be translated as "when you drink tea, you don't count the cups" and means that tea is something almost "sacred" in Azerbaijan.