16 October 2014 15:32 (UTC+04:00)
886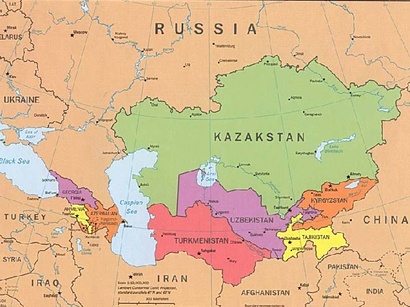 By Bloomberg
Asia's resistance to the emerging- market currency rout is wearing off.
An index tracking 10 of the region's exchange rates has fallen 1.4 percent since the start of September, led by losses in Indonesia's rupiah and South Korea's won that have erased the gauge's gains for the year. While Asia managed to resist an exodus from developing-nation currencies for months, the region's $7.5 trillion in foreign reserves are no longer proving enough to offset the slump in global growth that threatens to curb demand for the region's exports.
"We're just starting to see the beginning of this Asian currency weakness and this will continue into next year," Christy Tan, the head of markets strategy and research at National Australia Bank Ltd. in Hong Kong, said in an Oct. 10 interview. "It's no longer the case that Asian currencies are on an appreciating path."
Asia is particularly vulnerable to a weaker global economy because exports account for at least 50 percent of the gross domestic product of countries such as South Korea and Malaysia. Signs of the slowdown are mounting, with German exports rising the least since 2009 in August and U.S. retail sales dropping in September for the first time in eight months.
The International Monetary Fund last week cut its 2015 global growth forecast for the second time this year, saying it estimates expansion of 3.8 percent, down from the 4 percent it was predicting in July.
Since then, overseas investors have pulled $2.5 billion from a group of six of the biggest emerging-Asia stock markets tracked by Bloomberg, paring inflows this year to $34 billion.
Leading Declines
Both the rupiah and won have declined more than 4 percent against the dollar in the past month and a half. China's yuan is the only one of the 24 most-traded developing-nation currencies to strengthen over that time.
Until last month, Asia had been a bright spot in emerging markets. A broader developing-nation currencies index plunged at the start of the year, rebounded and then started falling again in May. It has lost 6.3 percent since a May 19 peak, leaving it down 5.2 percent for the year, data compiled by Bloomberg show. The measure dropped 7.2 percent in 2013.
"It's clear that emerging-Asia stands out in the emerging- market space, which explains why Asian currencies have delinked from the rest of the emerging markets," Khoon Goh, a strategist at Australia & New Zealand Banking Group Ltd. in Singapore, said Oct. 13 by e-mail. "This resilience is now wearing down."
The Bloomberg-JPMorgan Asia Dollar Index, which tracks 10 emerging-Asia currencies, has fallen 0.7 percent in 2014, after tumbling from this year's high on Aug. 27.
Continuing Losses
Analysts expect the losses to deepen.
Median estimates in Bloomberg strategist surveys see Thailand's baht, Malaysia's ringgit and the rupiah all falling at least 0.6 percent by the end of 2015 as the world economy deteriorates and the prospect of higher U.S. interest rates drives up the value of the dollar. The baht will fall the most of those three currencies, losing 3.1 percent, according to the surveys. Participants see the won rebounding 0.5 percent and the yuan ending next year 2.1 percent stronger.
"For next year, we see Asia ex-Japan currencies facing another challenging time in the first half," said Callum Henderson, the Singapore-based global head of foreign-exchange research at Standard Chartered Plc.
Five of the 10 biggest hard-currency stockpiles are held by emerging-Asian countries, according to data compiled by Bloomberg. China has the most, $4 trillion.
Exports Slow
Declining export growth threatens to chip away at these foreign-reserve buffers.
The pace of increase in the overseas sales of South Korea, Taiwan and Malaysia all slowed to below their five-year averages in August or September. The Bank of Korea cut its benchmark rate for the second time in as many months yesterday to support the economy and lowered its 2015 growth forecast to 3.9 percent from 4 percent.
The won has slumped more than 5 percent since reaching a six-year high in July, and traded at 1,061.60 per dollar as of 9:56 a.m. in London.
Some investors are speculating that falling worldwide demand could interrupt the decline in Asian currencies if it delays the U.S. Federal Reserve's first interest-rate increase since 2008. The emerging-Asia currencies index has rebounded 0.4 percent from a six-month low reached on Oct. 3 as traders pushed back expectations of a boost to Fed rates.
China Economy
In China, exports showed signs of resilience last month, posting a 15.3 percent increase that topped the 12 percent median estimate in a Bloomberg survey of analysts.
That may not tell the whole story, though, because the figure was boosted by a 34 percent jump in shipments to Hong Kong, some of which could have been disguised "hot money," or short-term fund flows, Tim Condon, the head of Asia research at ING Groep NV in Singapore, wrote in an Oct. 14 note. That suggests export growth may be much lower, he said.
Three phone calls to the press office of China's trade ministry went unanswered.
China's economy, the world's largest after the U.S., probably expanded 7.2 percent last quarter, the slowest pace in more than five years, according to a Bloomberg survey of analysts before official data is released on Oct. 21.
"Asian currencies are probably somewhat expensive," Aaron Low, the Singapore-based principal of Lumen Advisors LLC, an emerging-market hedge fund, said by e-mail on Oct. 13. The downturn in global growth is "definitely playing a part" in their declines now, he said.
Related News