30 August 2018 17:15 (UTC+04:00)
3 754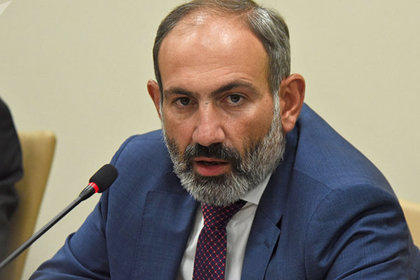 By Sara Israfilbayova
Prime Minister of Armenia Nikol Pashinyan reported on the activities of the government in the first 100 days of his capacity as head of the government.
Following the meeting, a group of Armenian MPs and experts made an analytical forecast on the catastrophe that awaits Armenia under the leadership of Pashinyan.
The article published by Aravot says that the foreign-policy prototype of Armenia was seriously violated within three months of Nikol Pashinyan's accedence.
Everyone in Armenia recognizes that "thanks" to the policy of the new authorities, the political crisis in the country is increasingly deepening and at the end can lead to complete collapse. The population accuses the Prime Minister and his team in the current situation, pointing to their dilettantism in politics.
The biggest failure of the new government is considered erroneous political line towards Russia.
The most vivid example of the anti-Russian orientation of the new authorities, Armenian experts consider the arrest and initiation of criminal proceedings against former President Robert Kocharian and the criminal prosecution of the CSTO Secretary General Yuri Khachaturov.
Experts think that criminal cases initiated by Pashinyan, whose components are former top officials of the state, may lead to new protests in the country.
For example, expert of the Armenian Institute of International and Security Affairs Ruben Mehrabyan said that the arrest of the ex-president is a serious international challenge for Armenia and the Armenian authorities.
Even more interesting are the remarks of Armenian MPs on the Karabakh policy of the new authorities. In their opinion, the mutually exclusive and diplomatically poorly verified statements made by Nikol Pashinyan, give out indiscriminate, irresponsible and pernicious representation of the Prime Minister regarding a diplomatic settlement of the conflict.
In turn, Armenian political scientist Armen Minasyan analyzed the official data of the National Statistical Service of Armenia and came to the conclusion that statements voiced at the rally by Pashinyan that the number of arrivals to Armenia is more than the number of those who leave the country do not correspond to reality.
Pashinyan said that from May 10 to August 14 this year, 29,986 more people arrived in Armenia than departed.
Nikol Pashinyan's statements do not withstand criticism. So, the official statistics states that in the first half of 2018, 839,000 people left Armenia, while 788,200 people arrived in the country. In other words, approximately 50,800 Armenian citizens left the country and did not return.
It turns out that Nikol Pashinyan, manipulating the number of tourists arriving in the country, tries to hide the fact of mass migration, which has reached an apogee during his leadership.
---
Sara Israfilbayova is AzerNews' staff journalist, follow her on Twitter: @Sara_999Is
Follow us on Twitter @AzerNewsAz
Category News