15 December 2016 12:47 (UTC+04:00)
2 589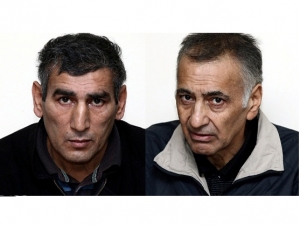 By Rashid Shirinov
Voluntary journalists who created "Visit Dilgam and Shahbaz, witness the reality" initiative group held a meeting in Baku on December 14.
Azerbaijani journalists created the initiative group on July 11, 2016 on the second anniversary of Dilgam Asgarov and Shahbaz Guliyev's holding as hostage by the Armenian forces. They attracted foreign journalists to the group, as well.
Addressing the event chairman of Azerbaijan's Press Council, Aflatun Amashov, called on the society to struggle for releasing Asgarov and Guliyev from Armenian imprisonment. He stressed that the Azerbaijani government was working hard on this issue.
Member of Parliament Khanhuseyn Kazimli said that the problem was disccussed at a meeting with lawyers at the Institute of Diplomatic Progress in London, but did not share the details of the talks.
MP Elman Nasirov, in turn, also spirited up in the fight for freedom of Dilgam and Shahbaz, and asked to make every endeavor in this struggle.
At the end, the voluntary journalists called on the Azerbaijani, Armenian and Moldovan ombudspersons, Azerbaijan Red Crescent Society, the UN High Commissioner for Human Rights Zeid bin Ra'ad, Amnesty International, European Court of Human Rights, and World Organization Against Torture to contribute to solve the problem.
The two citizens of Azerbaijan were taken hostage by the Armenian armed forces in July, 2014 while visiting their native places and graves of loved ones in the occupied Azerbaijani Kalbajar region. Moreover, Armenian forces killed the third Azerbaijani citizen, Hasan Hasanov.
Later, Guliyev and Asgarov were judged illegally by the unrecognized courts of a separatist regime in occupied Nagorno-Karabakh. Following an expedited "judicial process" in December 2015 Asgarov was sentenced to life imprisonment and Guliyev to 22 years.
Azerbaijan, whose over 4,000 citizens were taken captive, hostage, or went missing as a result of the Nagorno-Karabakh war, has repeatedly declared its readiness to begin negotiations with Armenia in regard.
Armenian aggression against its neighboring country resulted in the occupation of 20 percent of Azerbaijan's internationally recognized territories. The large-scale hostilities resulted in the death of over 20,000 Azerbaijanis while over 4,000 ethnic Azerbaijanis were taken captive, hostage, or went missing as a result of the war. The majority of those captured during the hostilities are children, elderly people, and women.
Related News