3 November 2016 17:37 (UTC+04:00)
2 963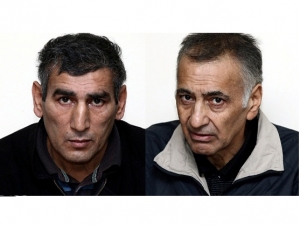 By Rashid Shirinov
Life condition of Dilgam Asgarov and Shahbaz Guliyev, two Azerbaijanis for over two years kept as hostages by Armenian armed forces, is in danger.
This is evident from the last letter sent by Shahbaz Guliyev to his family via the International Committee of the Red Cross (ICRC). Describing his current condition in it, he then wrote about Dilgam Asgarov.
"Dilgam was taken to another place. He felt bad, and his condition worsened in the last few days. Now Dilgam is not here, I have no information about him," Guliyev wrote.
The two citizens of Azerbaijan were taken hostage by the Armenian armed forces in July 2014 while visiting their native places and graves of loved ones in the occupied Azerbaijani Kalbajar region. Moreover, Armenian forces killed the third Azerbaijani citizen Hasan Hasanov.
Later, Guliyev and Asgarov were judged illegally by the unrecognized courts of a separatist regime in occupied Nagorno-Karabakh. Following an expedited "judicial process" in December 2015, Asgarov was sentenced to life imprisonment and Guliyev to 22 years. The attempts of Azerbaijan to provide justice and to free its citizens are still unsuccessful.
"I do not receive any normal news from my farther for a long time," the son of Dilgam Asgarov, Kurdoglu Asgarov told in an interview. "This cannot go on."
He resented that he does not know who writes the letters which are allegedly from his father. Last letter from Dilgam Asgarov was written in Russian, which Kurdoglu regards as suspicious. After a month, he learned that his father was taken away from Shahbaz Guliyev, and therefore he addressed the Baku office of ICRC. "However, they did not say any news to me."
Seeing no progress in liberation of Asgarov and Guliyev, some experts already come to the conclusion that these two hostages kept by Armenian occupants should be liberated via an anti-terrorist operation against Armenian armed forces.
However, the political analyst Arzu Nagiyev stressed that this is risky and dangerous for the life of Guliyev and Asgarov. He noted that the problem should be addressed through strict pressure of international humanitarian organizations on the Armenian authorities.
"Poor health condition can be a cause to be put on agenda – this is envisaged even by the rules of war. Moreover, the co-chairs of OSCE Minsk Group can raise the issue," Nagiyev said.
Azerbaijan, whose over 4,000 citizens were taken captive, hostage, or went missing as a result of the Nagorno-Karabakh war, has repeatedly declared its readiness to begin negotiations with Armenia.
Azerbaijan's State Committee on Affairs of Refugees and IDPs, the State Commission on Prisoners of War, Hostages and Missing Persons and other agencies have repeatedly urged international organizations, including the ICRC, to assist in release of Guliyev and Asgarov, whilst the problem remains actual yet.
Related News