Christmas celebration in Baku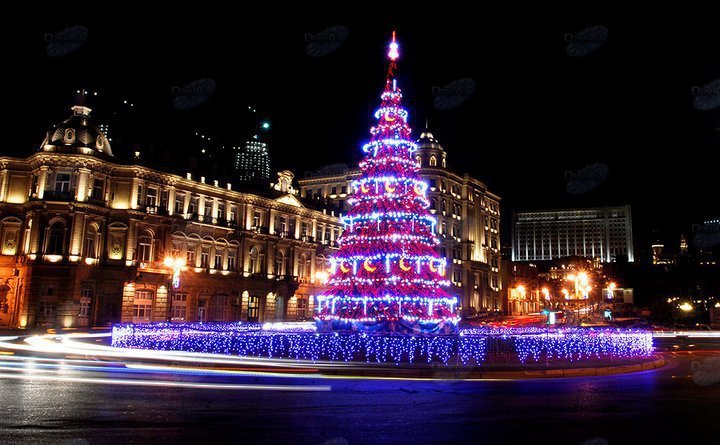 By Nigar Orujova
Officially Azerbaijan does not celebrate Christmas. However, between the official and the unofficial lays a world of difference. And what a difference. As the month of December begins, Baku begins to slowly and gently transform itself. Decorative lights begin to make their first appearances, as do Christmas trees and Christmas carols.
From Baku's shopping malls to neighborhood supermarkets, it becomes impossible not to notice the gentle metamorphosis that Baku takes on.
The city takes on a magical air of festivity and suddenly everyone old and young start believing in miracles.
Foreigners living in the capital city tend to go back on Christmas Eve to their home countries, but some want to spend this wonderful time in Baku.
There is no Christmas without Christmas tree, decorations and gifts. For all these, you should head to both cozy markets and big stores. The flower shops are now full of Christmas trees of all the possible size, from tiny trees that can stand on a table, to the two-meter high beauty.
Here you can also find decoration both for the tree and the house. Moreover, the decoration can be found in the holiday fairs around the city.
Gifts for any taste and at any price are also still available, but hurry up if you want to buy something special.
You can also brighten the mood for this vivid holiday by visiting the Cold Hands Warm Heart charity fair, which is underway on Fountain Square. Here you can also buy presents, enjoy music and tasty baking with hot drinks.
To visit the Christmas Eve Church Service you should come to the Church of the Virgin Mary's Immaculate Conception located in Khatai district of Baku near Khatai metro station, at Orujev st. 2A. Services are administered here in three languages, Azerbaijani, English and Russian.
Stay tight about the place to spend the holiday, if you do not want to deal with cooking. A number of high-class restaurants offer Christmas dinners nights now. There you can feel yourself at home while eating the delicious food and enjoying live music.
Visit Fairmont Baku located at the gorgeous Flame Towers for Yuletide cheer. Christmas Eve dinner for family and friends may be celebrate in the hotel's Le Bistro restaurant, in relaxed French style with a four course meal and festive live music from 59 manats per person. Christmas Day dinner also available at Alov Steakhouse and Jazz with four-course meal for 85 manats. For reservation and more information you can call: + 99 412 565 48 48.
Excelsior Hotel Baku also supports the holiday spirit with a Christmas Dinner at Belvedere Restaurant. The warm ambience of this place in along with four-course dinner, live Christmas music and non limited local vine and juices, all these for 49 manats per person, will make you day pleasant and memorable. For reservation call the hotel at: +99 412 496 80 00.
With all these precautions, you will not miss the spirit of Christmas even in the heart of the southern country.