21 April 2017 17:00 (UTC+04:00)
1 965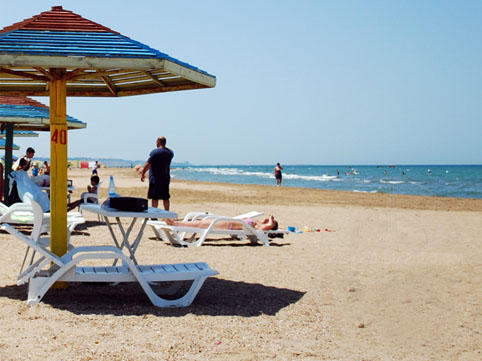 By Amina Nazarli
Thinking of Azerbaijan conjures up visions of beautiful nature, sandy beaches and long, sunny days.
Annually, the beach season draws thousands of holidaymakers to the Baku shore of the Caspian Sea, turning the city a top holiday spot throughout the year.
While tourism is turning into ever growing sector in Azerbaijan, which welcomes more and more foreign arrivals each season, the government aims to boost the beach tourism and attract more tourists in this shiny season.
To develop this field in the country and attract more tourists, President Ilham Aliyev earlier signed an executive order approving an action plan on the development of beach tourism for 2017-2020. The order aims to ensure more effective use of the Azerbaijani section of the Caspian Sea to improve tourism industry.
Culture and Tourism Minister Abulfas Garayev, addressing a meeting on implementation of the action plan, stressed that unfortunately some beaches in the country do not meet the international standards, offer poor service and ignore safety rules.
Garayev, noting the importance of approving the relevant rules in this area, said that a standard for beach tourism has been prepared and submitted to the State Committee for Standardization, Metrology and Patents for approval.
The minister added that before the opening of the 2017 beach season it is planned to open six private and six public beaches in Baku, Khachmaz, Lankaran, and Astara regions of the country within the action plan.
The Caspian Sea washes 825 km of Azerbaijan's shores ranging from the border with Russia to Iran, thus representing a great opportunity for beach tourism, not least for the consequent income.
This section of the Caspian is great for seaside holidays, as the beach season continues until October, making possible to tan and swim for five months of the year with sunshine practically guaranteed. Furthermore, the water of the Caspian Sea is not as salty as the water of the other seas hence more favorable for swimming, less irritates eyes and does not dry skin.
The beaches lining the Absheron peninsula are within easy reach of the capital city, while the necessary infrastructure – good roads and highways, a variety of hotels and resorts - make the area a popular for those seeking rest and relaxation.
--
Amina Nazarli is AzerNews' staff journalist, follow her on Twitter: @amina_nazarli

Follow us on Twitter @AzerNewsAz
Category News