30 October 2013 10:37 (UTC+04:00)
1 441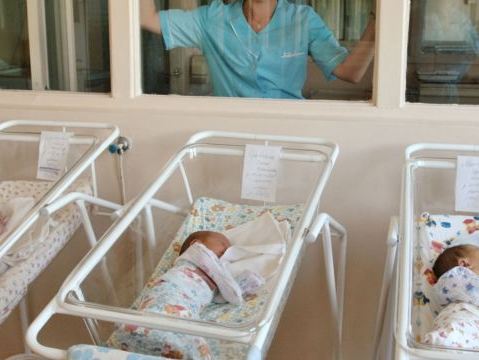 By Sabina Idayatova
Azerbaijan's parliament, the Milli Majlis, made amendments to the law "On social allowances" at its plenary session held on October 29.
A relevant bill was submitted by the chairman of the parliamentary committee for social policy, Hadi Rajabli.
According to the amendments, social benefits will be paid for each child to the families with more than five children. The benefits will be paid to children aged one to 18 years. Upon their becoming adults, the payment of social benefits will be terminated.
Earlier, Rajabli commented that another addendum to the law stipulates granting allowances to women who deliver and bring up more than five children when the child turns one and on the condition that the child is in good health.
In the Soviet period, the MP said, there were more than 20,000 women with more than 10 children in Azerbaijan alone. "Approximately 90,000 marriages a year are concluded in Azerbaijan. At the same time, only 165,000 children are born annually," he added.
A day earlier, deputy chairman of the social policy committee Musa Guliyev said that allowances can be paid for each child in the amount of no less than 25-30 manats.
Guliyev also noted that Azerbaijan is preparing a concept for strengthening the social protection of large families. Such issues as tax breaks and granting certain privileges to such families may be included in the concept.
The MP said such a policy is conducted in most countries of the world. The main issue is to ensure a positive direction of the demographic processes. It is known that there are no demographic pressures in Azerbaijan, i.e., demographic growth is observed.
Guliyev said the population of the country is growing at an average of 100,000 people a year. Young and middle-aged people make up most of the Azerbaijani population. There is no demographic problem in Azerbaijan, however, it is important to carry out relevant activities in order to prevent such problems in the future, according to Guliyev.
Related News