8 September 2009 22:27 (UTC+04:00)
595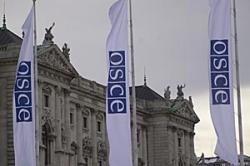 A delegation of the OSCE, which is brokering settlement to the Armenia-Azerbaijan conflict, is due to visit the strategic Lachin corridor during the second half of September, Turkey`s Yeni Shafag newspaper reported, quoting diplomatic sources. The mission will carry out measurement activities in the area and report to the mediating OSCE Minsk Group on the outcome of its visit.
The Lachin corridor is a road connecting Upper Garabagh, an Azeri region under Armenian occupation, with Armenian territory.
Elkhan Polukhov, spokesman for the Azerbaijan Foreign Ministry, has confirmed the report. He said the measurement work to be done in the corridor was part of ongoing talks on the Garabagh settlement.

Category News