21 May 2018 18:10 (UTC+04:00)
791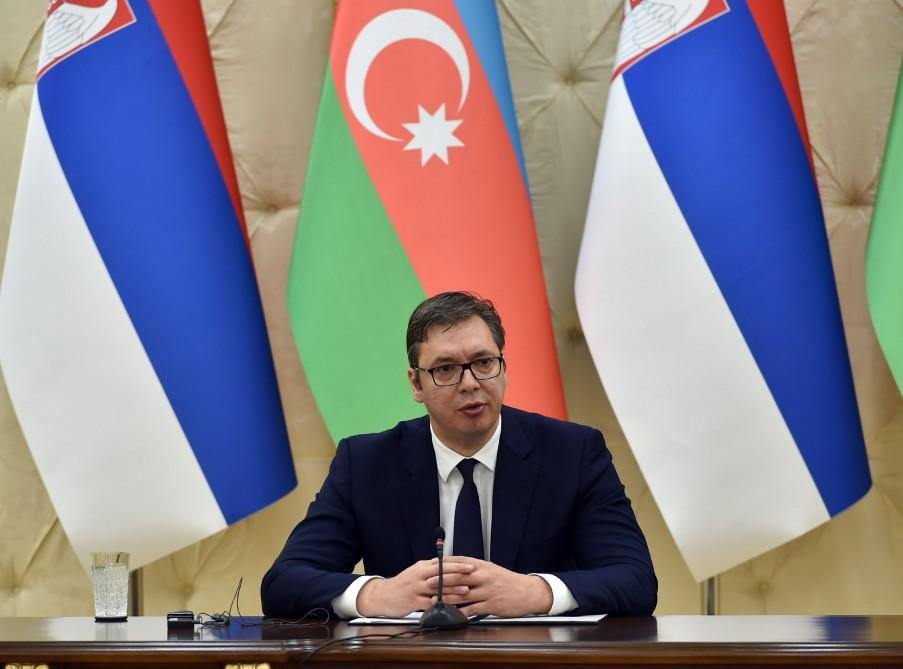 By Trend
There is a great potential for improving relations between Azerbaijan and Serbia, said Serbian President Aleksandar Vucic making press statements together with Azerbaijani President Ilham Aliyev in Baku May 21.
"I would like to thank you for the sincere and kind words. I would like to express my gratitude for all the work carried out to develop the relations between Azerbaijan and Serbia. I think I am the first head of state to visit your country after your election as the president. It is a great honor for me," he said.
Vucic stressed that for Serbia it is very important to develop friendly relations with Azerbaijan.
"This fully meets the interests of our countries and peoples. There is a very large space for our cooperation. Exactly for this reason, it can be said, I have visited Azerbaijan together with almost half of our government. Because, we intend to develop cooperation with Azerbaijan in all spheres, " the Serbian president said.
He further expressed gratitude to Azerbaijan for support to the independence and sovereignty of his country.
"We, in turn, support the independence and sovereignty of Azerbaijan. This position of both countries will remain unchanged. Mr. President, we highly value your policy. You are a personality who ensures the independence of his country, who protects freedom and makes every possible effort for well-being of his citizens. Your country is located in a very complex region, at the intersection of different regions, and you have been able to keep your country safe," Vucic added.
The Serbian leader emphasized that economic interests are also ensured.
"We have a great potential to improve our relations. A meeting of our intergovernmental commission will take place in the near future. The last meeting was held in 2015. I think we will be able to actively cooperate in implementation of various transport projects," he said, reminding that an Azerbaijani company is successfully building a road in Serbia.
"Along with this, we will be able to achieve great success in trading in various agricultural products, in culture, sports and others. Surely, we also have a great potential in the military-technical sphere and military education. I think these are also very important spheres," the Serbian leader said.
According to him, the lack of disputable issues between the two countries is a very positive moment.
"We fully support each other at various international organizations. Mr. President, taking this opportunity, we, in presence of media, invite you to pay an official visit to Serbia. You will witness the hospitality of our people, manifestation of liking and respect for both you and your country. Azerbaijan is a friendly country, and we hope to see you in Belgrade soon," he said.
The Serbian president further highlighted the growth in the non-oil sector of Azerbaijan.
"I congratulate you in connection with a 3-percent growth in the non-oil sector of your country. I see that you attach great importance to diversification of the economy. This is a feature inherent in a real political leader."
"We have good relations. We have seen an increase in our budget for already third year. This gives good opportunities in terms of mutual investing at a higher level. Mr. President, I thank you once again for your sincere friendship and I hope to see you in Belgrade soon," Vucic concluded.
---
Related News