24 January 2018 17:47 (UTC+04:00)
2 579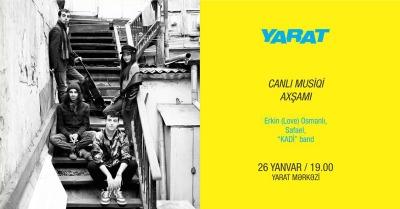 By Aygul Salmanova
YARAT Contemporary Art Space invites you to spend last Friday of January together! In the frame of YARAT Live Music event, it will host such talented musicians as Erkin (Love) Osmanli, Safael and KADI band on 26 January, 2018 at 19:00.
Erkin (Love) Osmanli is the author of pop music, poet and actor at the same time. He became known to the public in Azerbaijan through the musical show "Academy" 2006. In 2017, he took part as an actor, composer and performer in the science fiction play "D4rkly Your Retrorockets Fl4re" in New York.
Safael's passion for music appeared when he was 13. He graduated jazz vocals from the Moscow Institute of Contemporary Art.
Orkhan Efendi one of performers of the "KADİ" Band is the author and musical performer. Since 2014, he has been writing music, composing and performing music in the genre of blues and rock and roll. Vafa Kadirova, another performer of the band, is the author and performer in the genre of jazz and blues. In 2017, she performed in the frame of "Musical Festival" which was held in collaboration with French Embassy. Currently, she is working on her first single.
The number of seats is limited. So, to attend the lecture, you need to register in advance by calling: +994125051414 or +994502469292
Address: YARAT Contemporary Art Centre (2nd floor, multifunctional room)
YARAT is an artist-founded, not-for-profit art organisation based in Baku, Azerbaijan, established by Aida Mahmudova in 2011. YARAT (which means 'create' in Azerbaijani) is dedicated to contemporary art with a long-term commitment to creating a hub for artistic practice, research, thinking and education in the Caucasus, Central Asia and surrounding region.
YAY Gallery is a commercial gallery that opened in 2012 in order to further support arts infrastructure in Azerbaijan. The gallery shows mid-career and established Azerbaijani artists both locally and abroad. YAY (meaning "share" in Azerbaijani) shares all proceeds from sales of work between the artists and YARAT.
--
Follow us on Twitter @AzerNewsAz
Related News