13 December 2017 18:20 (UTC+04:00)
2 743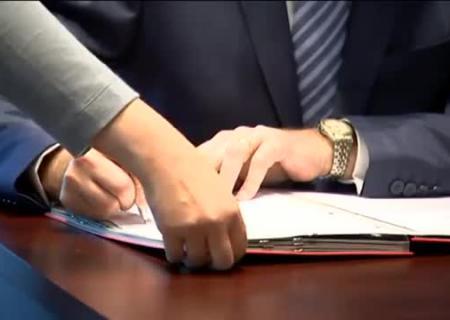 By Sara Israfilbayova
Representatives of Azerbaijan Railways, Rail Cargo Austria and the Turkish State Railways signed a memorandum of understanding (MoU) in Baku.
The MoU included the development of a competitive, high-speed, intermodal railway network in Europe, the CIS and China.
Azerbaijan Railways reported that Chairman Javid Gurbanov informed the parties about the transport and logistics potential of Azerbaijan, the Trans-Caspian International Transport Route (TITR), the North-South and South-West transport corridors, as well as the newly commissioned Baku-Tbilisi-Kars (BTK) railway that will connect Asia with Europe.
The agreement on creation of the TITR was signed in April 2016 in Baku by the railway authorities of Azerbaijan, Georgia and Kazakhstan.
About 300,000-400,000 containers are expected to be transported via the Trans-Caspian international transport route by 2020, bringing huge financial profits to Azerbaijan. Growing interest in the transport infrastructures passing through Azerbaijan's territory is expected to make the country a major transport hub in the region.
The North-South transportation corridor is meant to connect Northern Europe to South-East Asia and has a strategic importance for the region. It will serve as a link connecting the railways of Azerbaijan, Iran and Russia.
At the initial stage, the North-South corridor will transport 5 million tons of cargo per year with further expansion of transportation to over 10 million tons. Along with making a great contribution to the diversification of Azerbaijan's economy the project is expected to turn the country into a major transport hub.
The BTK railway was constructed on the basis a Georgian-Azerbaijani-Turkish intergovernmental agreement. It is expected that by 2020, the turnover between China and Europe will exceed 300,000 containers per year, and Azerbaijan, through the BTK railway, will be involved in the global transport system.
The official opening ceremony of the BTK railway was held in Baku on October 30.
The railway's peak capacity will be 17 million tons of cargo per year. At an initial stage, this figure will be one million passengers and 6.5 million tons of cargo.
---
Follow us on Twitter @AzerNewsAz
Related News