14 February 2018 15:58 (UTC+04:00)
3 889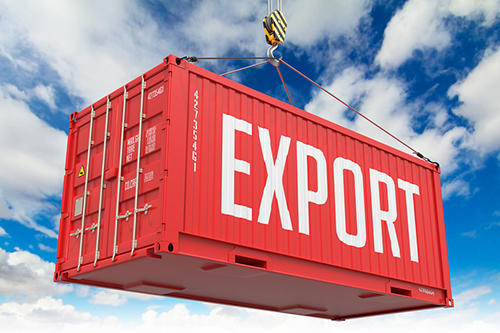 By Kamila Aliyeva
Kazakhstan exports its manufacturing products to 122 countries, Kazakh Minister of Investments and Development Zhenis Kassymbek said while speaking at the board of the ministry, Kazinform reported.
"Kazakhstan ranks 53rd among the largest exporting countries. Kazakh products of the manufacturing industry are exported to 122 countries. We export 50 percent of our production to the European Union, 12 percent – to China, 5 percent – to the countries of Central Asia. We are the world leaders in the supply of uranium, copper, titanium, ferroalloys, yellow phosphorus, flour, wheat and other products," he noted.
On the instructions of the head of state this year a proactive approach to attracting investments will be strengthened, according to the minister.
At present, the development of the investment brand of Kazakhstan is being completed, he said. Information and monitoring system will be put into commercial operation.
Kassymbek went on to say that it is planned to hold a large international investment forum in Astana, "which will expand opportunities to attract investment to our country" in May 2018.
Works on 51 Kazakh-Chinese projects in the industrial sphere are continuing, according to the minister.
"Four projects have been launched, this year we plan to put into operation six projects worth $363 million and start construction works on five projects worth $623 million. In total, there are 51 of them for more than $27 billion," he added.
Kazakhstan is the 48th most complex economy according to the Economic Complexity Index (ECI).
The country has an export-oriented economy which is highly dependent on shipments of oil and related products (73 percent of total exports). Other exports include ferrous metals, copper, aluminum, zinc and uranium.
Main imports are electronics, machinery and mechanical appliances (25 percent of total imports), mineral products (15 percent), transport equipment (12 percent) and base metals and related products (10 percent).
Kazakhstan became a World Trade Organization (WTO) member on November 30, 2015.
The country officially entered into a Customs Union with Russia and Belarus on July 1, 2010. Since that time, Kazakhstan's trade policy has been heavily influenced by regulations promulgated by the Customs Union and its governing body the Eurasian Economic Commission.
As a condition of membership in the Customs Union, Kazakhstan had to double its average import tariff and introduced annual tariff-rate quotas (TRQs) on trade apoultry, beef, and pork.
However, in accordance with its WTO commitments, Kazakhstan will now gradually lower 3,512 import tariff rates to an average of 6.1 percent by 2020. Starting from January 2016, Kazakhstan has applied a lower-than-Customs Union Tariff rate to food products, automobiles, airplanes, railway wagons, lumber, alcoholic beverages, pharmaceuticals, freezers, and jewelry.
On May 29, 2014 Kazakhstan and its Customs Union partners signed a treaty to create a common economic space known as the Eurasian Economic Union (EAEU). The EAEU is expected to further integrate their economies, and provide for the free movement of services, capital and labor within their common territory. The government of Kazakhstan has asserted that EAEU agreements comply with WTO standards.
Kazakhstan's government is optimistic that further integration within the EAEU will make Kazakhstan more attractive for foreign investment by expanding market access to those countries.
Kazakhstan is a signatory of the Free Trade Agreement with CIS countries. In addition, as a member of the EAEU, Kazakhstan is party to the Free Trade Agreement between the EAEU and Vietnam.
---
Kamila Aliyeva is AzerNews' staff journalist, follow her on Twitter: @Kami_Aliyeva
Follow us on Twitter @AzerNewsAz
Related News