National freestyle wrestler team becomes third in Minsk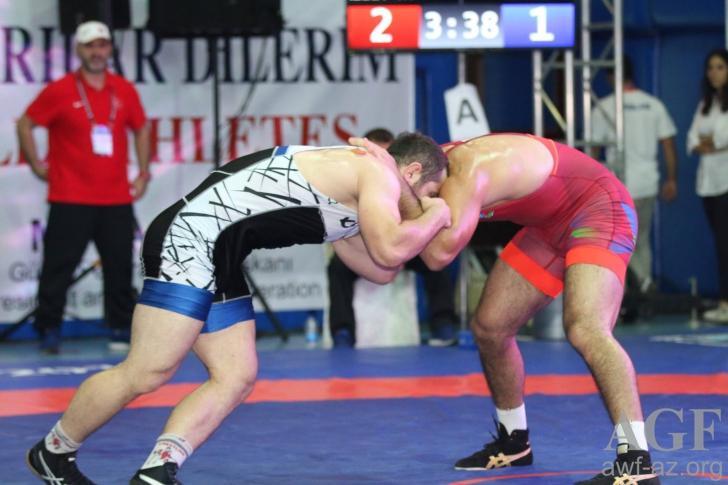 By Naila Huseynli
Azerbaijani freestyle wrestling team took the third place in the international tournament held in honor of the three-fold Olympic champion Alexander Medved in Minsk, Belarus.
Sharif Sharifov (92) and Jamaladdin Mahammadov (125 kg) won gold for Azerbaijan. Haji Aliyev (65 kg), Agahuseyn Mustafayev (70 kg) and Murad Suleymanov (86 kg), Murtuzali Muslimov (70 kg) claimed bronze medals under the leadership of head coach Firdovsi Umudov, coaches Zalimkhan Huseynov and Arif Abdullayev.
National team scored 126 points and took the 3rd place. Russia holds first place with 177 points and Belarus ranked second with 169 points.
Women's team is on the fourth place in the team standings. Under the guidance of head coach Aslan Agayev and coach Rovshan Umudov, Angela Dorokan (53kg), Tatyana Omelchenko (59 kg) grabs silver, Elmira Gambarova (62 kg), Irina Netreba (65 kg) and Sabira Aliyeva (76 kg) won the bronze medal. As a result, the team scored 93 points. National team is ahead of China (164), Russia (151) and Belarus (95).
Wrestling remains the most popular sport in the county and is overseen by the National Wrestling Federation, which was established in 1993.
The Rio Games opened a new page in wrestling for Azerbaijan. The country became one of only two nations ever to increase the number of medals achieved in five consecutive Games.
Azerbaijan left Rio de Janeiro with a total of 18 medals. Nine of these medals were distributed to the Azerbaijani team in wrestling.
---
Follow us on Twitter @AzerNewsAz