Kazakh Navy holds military drills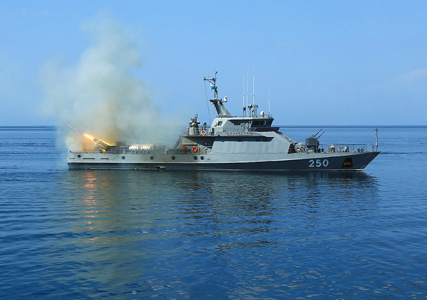 By Aynur Jafarova
Kazakhstan's naval forces have conducted military exercises in the Caspian Sea, the Defense Ministry said on August 2.
The crew of the missile and artillery ship was praised in the course of the maritime combat exercises.
During the exercises, the Kazakh Navy simulated boat attack and use of weapons of mass destruction, searched sea mines and carried out search and rescue operations in the open sea. All these maneuvers were included in the drills, which were titled "conducting naval combat by a single ship."
The crew of a rocket-artillery ship led by Lieutenant Commander Erkebulan Darkenbayev successfully fulfilled all the tasks.
"The seamen have shown a high level of ship control and firing facilities use," the commander of the naval base, captain Saken Mansurov said.
The military exercises in the Caspian continue. Kazakhstan's Navy is increasing the pace of training and preparing to carry out new tasks.
The fleet of the Central Asian state's Navy includes ​​hydrographic, rocket and artillery and mine-sweeping ships. The rocket-artillery ship "Kazakhstan" is the first offspring of the Kazakh national defense industry complex. It was launched to water a year ago from the stocks of the Ural Plant of Zenith. In April 2013, the Zenith plant manufactured another vessel, the artillery ship "Oral". The crew of this ship has already started to fulfill its tasks.