Russia's Arkady Dvorkovich elected president of World Chess Federation FIDE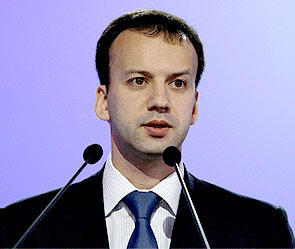 By Trend
Russian ex-official Arkady Dvorkovich has been elected president of the World Chess Federation during the FIDE General Assembly in Georgia's Batumi on Wednesday, TASS reported.
The other candidate for the post was FIDE Vice-President Georgios Markropoulos, of Greece. Dvorkovich received 103 votes, while Makropoulos secured 78 votes. One vote was announced to be invalid.
Another contender for the post, grandmaster Nigel Short, of Britain, withdrew his candidacy some minutes shy of the voting procedure.
Russian President Vladimir Putin has congratulated Dvorkovich with his election and expressed hope that this would help clear chess of politicization, Russian Presidential Spokesman Dmitry Peskov told journalists. "Putin expressed hope that Dvorkovich's election to this position will benefit chess and help clear chess of any attempts of politicization," Peskov said.
Russian PM Dmitry Medvedev also joined in on the congratulations. "Congratulations to the World Chess Organization on electing its new president," the Russian PM wrote on his Twitter page. He also wished luck to Dvorkovich.
Members of the Presidential Ticket of Arkady Dvorkovich, who have been also elected to the office are:
- Bachar Kouatly (France) - Deputy President
- Mahir Mammedov (Azerbaijan) - Vice President
- Julio Granda Zuniga (Peru) - Vice President
- Sewa Enyonam Fumey (Togo) - General Secretary
- Zhu Chen (Qatar) - Treasurer
Dvorkovic, 46, replaced in the post of FIFE president his fellow citizen Kirsan Ilyumzhinov, who ran the world's governing chess body since 1995 being reelected six times. His 23-year term at the helm of FIDE is the second longest in the history of the organization. Dutchman Alexander Rueb, one of the founders and the first president, was in charge of FIDE for 25 years (1924-1949).
In late 2015, the US Department of Treasury added Ilyumzhinov to its sanctions list for "materially assisting and acting for or on behalf of the government of Syria." In the wake of this move, Ilyumzhinov informed members of the FIDE Presidential Board that he temporarily delegated his legal, financial and business powers relating to FIDE activities to Deputy President Georgios Makropoulos. The Swiss bank, UBS, threatened to close the federation's bank accounts because of Washington's sanctions.
In late March 2017, FIDE posted a report on Ilyumzhinov's resignation on its website. According to that report, he allegedly said he would step down at a meeting of the FIDE board. However, the FIDE head refuted it saying he was ready to continue to perform his functions.
In October 2017, the FIDE Executive Board unanimously approved the full delegation of Ilyumzhinov's powers to Makropoulos. In April 2018, the FIDE Presidential Board asked Ilyumzhinov to step down because he had been sanctioned by the US. As many as 14 board members voted for that resolution, and one voted against it. On July 13, the FIDE Ethics Commission decreed to suspend Ilyumzhinov.
---
Follow us on Twitter @AzerNewsAz