14 June 2018 10:01 (UTC+04:00)
1 412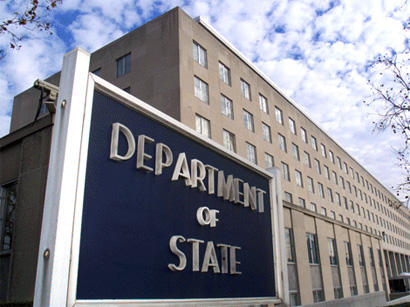 By Trend
The Southern Gas Corridor project, which envisages transportation of Azerbaijani gas to Europe, will enhance the resilience of Europe's energy markets, the US State Department told Trend.
"The project will enhance the resilience of Europe's energy markets and reduce its reliance on a single source of gas imports," said the State Department.
The US State Department believes that the Southern Gas Corridor is vital to Europe's energy security because it will supply Europe with an entirely new source of gas which will transit to Europe via an entirely new route.
The launching ceremony of the first stage of the Southern Gas Corridor project was held in Baku on May 29.
The gas from the Azerbaijani Shah Deniz field has already gone through the first segment of the Southern Gas Corridor - from the Sangachal terminal to the expanded South Caucasus Pipeline.
The next stage will be commissioning of the TANAP gas pipeline, through which the gas will enter the territory of Turkey and further Europe. The launching ceremony of TANAP will take place on June 12 in Turkish Eskisehir.
The Southern Gas Corridor, which costs more than $40 billion, is one of the priority projects for the EU and provides for the transportation of 10 billion cubic meters of Azerbaijani gas from the Caspian region through Georgia and Turkey to Europe.
At the initial stage, the gas produced within the second phase of development of the Azerbaijani gas condensate field Shah Deniz is considered as the main source for the Southern Gas Corridor projects.
The gas in the second stage of the field development will be exported to Turkey and European markets through the expansion of the South Caucasus Pipeline and the construction of the TANAP and TAP pipelines.
---
Follow us on Twitter @AzerNewsAz
Related News