17 June 2015 14:00 (UTC+04:00)
10 434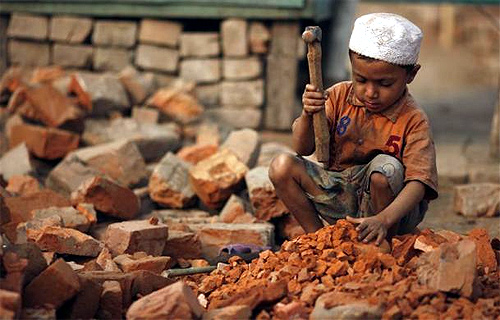 By Vusala Abbasova
Child Labour is rife in many countries throughout the world despite efforts to eradicate the detrimental practice.
An estimated 150 million children worldwide are engaged in child labor, according to UNICEF.
June 12 marked World Day Against Child Labor to remind us that this problem still persists and that we should focus on efforts to combat this transnational issue.
This Day has been commemorated since 2002 by the International Labor Organization to raise awareness on the global extent of child labor and the actions required to eliminate it.
Children around the world are routinely engaged in paid and unpaid forms of work. They are classified as child laborers when they are either too young to work or are involved in hazardous activities that may compromise their physical, mental, social or educational development.
Children can still be found working in many dangerous places like factories, mines, quarries, in agrarian and other labour-intensive industries. Many can still be seen peddling cheap products on the streets or hidden away in houses as servants. Almost 70 percent of all child workers work on the land, in fishing or farming jobs, some of them in harsh conditions. In many poorer countries, agriculture is a very integral part of the economy and cheap child labour is often used.
The prevalence of child labour is highest in sub-Saharan Africa, South Asia and Latin America. In the least developed countries, nearly one in four children (ages 5 to 14) are engaged in labour that is considered detrimental to their health and development.
Azerbaijan has so far made moderate advancement in efforts to eliminate the worst forms of child labor. In 2013, the president signed several amendments to the Criminal Code and to the Law of the Republic of Azerbaijan on the Fight against Trafficking in Persons to strengthen protections for children who may be victims of human trafficking, and raise penalties against those involved in the practice.
The Ministry of Labor and Social Protection of Population (MLSPP), and the State Committee on Family, Women and Children's Affairs (SCFWCA) also signed a Joint Action Plan (2013-2015) on Elimination of Child Labor Exploitation.
Azerbaijani law prohibits minors under the age of fourteen from working. Children aged fourteen and fifteen can work only with parental permission. Children under sixteen are prohibited from working more than twenty-four hours per week and sixteen-to-eighteen-year-olds can work no more than thirty-six hours per week
Millions of children are involved in hazardous work around the world. Hazardous work is defined as any work that can harm the health, safety, or mental health of children. Hazardous child labor needs to be brought to an end, while regulations need to be imposed concerning non-hazardous child laborer.
The World Day against Child Labour this year focused particularly on the importance of quality education as a key step in tackling child labour.
---
Follow us on Twitter @AzerNewsAz