24 April 2015 14:07 (UTC+04:00)
20 057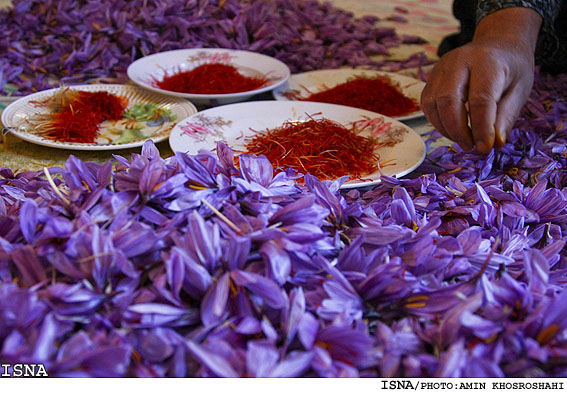 By Sara Rajabova
Iran is the world's biggest producer and exporter of saffron, which is considered as a strategic product in the country.
The Islamic Republic produces about 95 percent of the world's saffron, often described as the "red gold".
An Iranian official said last year Iran exported $244 million worth of saffron - the world's most expensive spice despite its small size.
Gholamreza Miri, head of the Saffron Exporters Union noted that as much as 170 tons of saffron had been exported to 53 countries during this period, Press TV reported.
It is a major product of the Khorasan, Fars and Kerman provinces of the country. The northeastern Khorasan province accounted for more than 148 tons of the exports which rose 27 percent versus the year before, Miri said.
Around 85 percent of Iran's saffron exports go to the UAE, Spain, Saudi Arabia, Hong Kong and India which process and re-export the crop in sleek packaging with better added-value.
While Iran dominates the global market for the production of saffron, its share of the trade, put at around $1.5 billion, barely surpasses $250 million.
Earlier, Iranian officials have said although over 95 percent of the world's saffron production belongs to Iran, the world knows this farming product under a Spanish name. Officials from Iran's Southern Khorassan province said Iranian producers have for years exported their product to Spain in bulk, where it is packaged under a different name, Iran media reported.
Due to its diverse climate and fertile soil, Iran's agriculture products are rated among the best in the world.
Saffron cultivation has a history of more than 3,000 years in the Middle Eastern country but Iran gets a meager payback from the trade due to its bulk sales of the costly product.
Traditional cultivation and harvest methods as well as bulk sales stand out as the drawbacks of the sector. But officials say middlemen and speculators are an additional burden.
"Middlemen and speculators play a key role in price fluctuations which seriously hamper steady exports," Miri told the Fars news agency.
Iranian officials said Western sanctions imposed on Iran's banking system over its nuclear energy program, haven't affected the export of Iranian saffron because Iran is the biggest producer of the red gold.
Saffron is a spice derived from the dried stigma of the flower of the saffron crocus (Crocus sativus), a species of crocus in the family Iridaceae. The flower has three stigmas, which are the distal ends of the plant's carpels.
Other producers of saffron are Spain, India, Greece, Azerbaijan, Morocco, and Italy.
Derived from the dried reddish-purple stigmas of the saffron crocus, it takes anything from 70,000 to 250,000 flowers to make one pound of saffron.
The flowers have to be individually handpicked in autumn when they are fully bloomed.
--
Sara Rajabova is AzerNews' staff journalist, follow her on Twitter: @SaraRajabova

Follow us on Twitter @AzerNewsAz