26 December 2017 15:44 (UTC+04:00)
3 004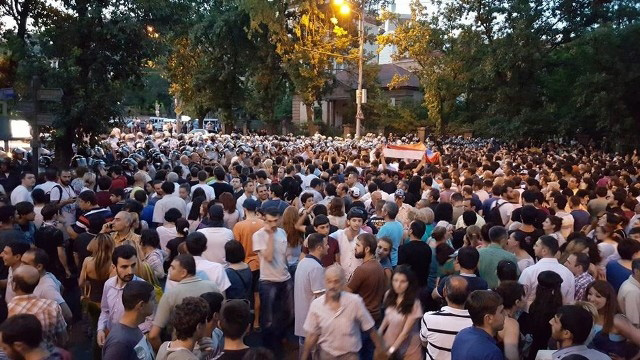 By Rashid Shirinov
The recent report "Caucasian Barometer 2017" of the Caucasus Research Resource Center-Armenia has showed that from state and public institutions, only the army and the church have the greatest influence in this country – 78 and 74 percent respectively. In contrast, there is a total distrust of the Armenian authorities.
The report's results demonstrated that there is no branch of power the Armenian society attaches hopes to. The overwhelming majority of respondents do not trust the president, the government and the parliament.
It is noteworthy that the trust rate of the population to the parliament is the lowest – 12 percent. This calls into question the statements of the authorities about the legitimacy of the last parliamentary election. As many as 41 percent of respondents said this parliamentary election "was not absolutely fair."
Moreover, a considerable part of the respondents believe that the country is mainly developing in the wrong direction. By and large, this survey showed that the Armenian society still does not believe in the ruling regime and the parliament, and this has a reasonable explanation.
The wrong policy of the Armenian authorities leads to a bunch of problems for this poor South Caucasus country, such as inflation, unemployment, corruption, poverty, weak economy, low foreign investment, falling exports and many others.
This, of course, is reflected in the mood of Armenia's population. Many of Armenians, rightly foreseeing that no tangible positive changes would be observed in the country, have long left Armenia. Statistics show that over the past 20 years, more than 1,200,000 people left the country – this accounts for about 40 percent of Armenia's population.
The major problem of ordinary people is unemployment. The poor economy has resulted in the unemployment rate of 19 percent which is highest among all the CIS states. Time after time, Armenians hold protests demanding to open new jobs, but the authorities have nothing to offer the poor people.
In a country that is in such a terrible situation, there is always a risk of armed uprising or a terror. Many Armenian experts think that soon, the manifestation of terrorism in the country will become so widespread and deep that it will become impossible to prevent it.
Such an attempt was made last summer, when a group of 30 armed men entered the territory of a police patrol department in Yerevan and took several people hostage. During more than two weeks, the attackers killed two Armenian police officers, and then the armed group eventually surrendered. Among the demands they named the resignation of the incumbent Armenian President Serzh Sargsyan.
Today, there is still a chance that such an incident will happen again, since after arresting the attackers, the Armenian government hardly did anything to improve life of population in the country.
---
Rashid Shirinov is AzerNews' staff journalist, follow him on Twitter: @RashidShirinov
Follow us on Twitter @AzerNewsAz
Related News