Azerbaijan - Russia Business Forum held in Baku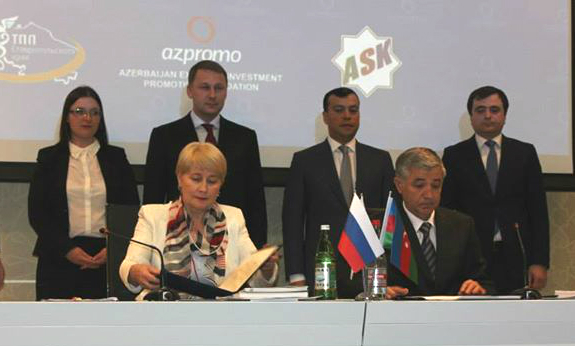 By Nazrin Gadimova
An Azerbaijan-Russia business forum was held in Baku as part of the visit of a Russian delegation to Azerbaijan on April 3.
The event, organized by the AZPROMO with the support of the Azerbaijani Ministry of Economy and Industry, brought together representatives of Stavropol's companies operating in agro-industrial complex, food industry, construction, energy, chemistry, education and other areas.
Addressing the event, Azerbaijan's Economy and Industry Minister Shahin Mustafayev spoke about the successful development of Azerbaijani- Russian relations, emphasizing the role of mutual visits at highest levels.
Mustafayev said the two countries established a solid legal framework.
"More than thirty documents were signed only in the economic sphere," the minister said.
"There are about 570 Russian companies in the country. Some $628 million was invested in fixed capital. Azerbaijan has invested $995.5 million in the Russian economy for the past ten years," he added.
The minister said, Azerbaijan has successfully cooperated with the Russian Federation entities, including Stavropol's.
"The trade turnover between Russia and Azerbaijan increased by 10 percent in 2013, in particular with Stavropol - by nearly 60 percent. Despite this, there are broad opportunities for further development of mutual cooperation, and Azerbaijan is interested in this," he added.
Deputy Prime Minister of Stavropol, Andrey Murga, in turn, said both sides have great potential, and its effective use will play an important role in the development of relations.
Then, a twining agreement was signed between the executive branch of Azerbaijan's Naftalan city and the city administration of the Russian Yessentuki city following the meeting.
Speaking at the meeting, Azerbaijan's Deputy Economy and Industry Minister Sahil Babayev said Azerbaijan intends to further continue cooperation with Russian regions.
"Our country is cooperating with 78 entities from Russian Federation. The cooperation has led to creation of intergovernmental commissions, four of which are already active," he said, adding that economic development in the country has provided the local entrepreneurs with necessary resources to invest abroad..
Following the meeting, an agreement on cooperation was signed between the Chambers of Commerce of Azerbaijan and Stavropol Krai.
Furthermore, an agreement on cooperation in the field of tourism was signed between the Azerbaijani Tourism Association and Stavropol's resort authority, as well as an agreement on cooperation between the Azerbaijani Confederation of Trade Unions and the resort association of the Federation of Independent Trade Unions of Russia "Profkurort."
Over the past ten years, the volume of Azerbaijan's investments in Russia's economy amounted to around $1 billion, $200 million of which fell on 2013.
"Foreign trade turnover between Azerbaijan and Russia amounted to $2.58 billion in 2013, which is 10.47 percent more than 2012," the Azerbaijani State Customs Committee said.
Azerbaijan's exports to Russia amounted to over $1 billion, while the import of goods from Russia totaled $1.5 billion during the mentioned period.