75 apply for registration in Iran presidential elections (UPDATE)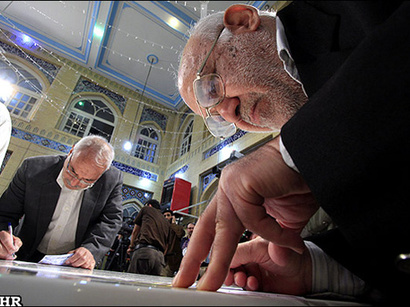 By Sara Rajabova
A total of 75 people submitted their candidatures for the presidential elections in Iran as the Interior Ministry officially announced beginning of registration process on May 7.
Interior Minister Mostafa Mohammad Najjar told journalists on May 8 that after each day of registration, the electoral headquarters would be sending the submitted registrations to the Guardian Council, Mehr news agency reported.
On May 7, only 5 of 75 presidential candidates who submitted registrations were politicians: Sadeq Vaez Zadeh, Hassan Rouhani, Mostafa Kavakebian, Mohammad Saeedikia and Kamran Bagheri Lankarani.
The registration of candidates for Iran's 11th presidential election, which is due on June 14, officially began on Tuesday morning on the order of the Iranian Interior Ministry.
Candidates have five days, until May 11, to sign up for the presidential election.
More than 20 political figures from across Iran's political spectrum have so far announced their intention to run for president, with the majority being from the conservative camp. Beside the conservative camp, the reformists and independents participate in the race for the presidential elections.
Among the candidates are Tehran Mayor Mohammad Baqer Qalibaf, former Foreign Minister Ali Akbar Velayati, and lawmaker Gholam Ali Haddad Adel, who make up the Coalition of Three; former Interior Minister Mostafa Pour-Mohammadi, deputy Majlis Speakers Mohammad Reza Bahonar and Hassan Aboutorabi-Fard; head of the Tehran Chamber of Commerce, Industries and Mines Yahya Al-e Eshaq; and former Foreign Minister Manouchehr Mottaki, who have formed the Coalition of Five.
Director of the Iranian Expediency Council's Center for Strategic Research Hassan Rohani, former Health Minister Kamran Bagheri Lankarani, Secretary of Iran's Expediency Council Mohsen Rezaei, former Minister of Commerce Mohammad Shariatmadari and former First Vice President Mohammad Reza Aref, Roads and Urban Development Minister Ali Nikzad and lawmaker Alireza Zakani are also among the candidates.
In meantime, Iranian presidential candidates are outlining their plans in a bid to win over more voters in the run-up to June 14 elections.
Some would-be candidates have openly criticized the economic policies of President Mahmoud Ahmadinejad.
Gholam-Ali Haddad-Adel said economic problems have been complicated and the "subsidy reform plan was not meant to be implemented the way it was."
Reformist candidate Mohammad-Reza Aref said he would drop out in favor of Reformist cleric Mohammad Khatami if the latter makes a comeback bid.
Khatami served as president for two consecutive terms up to 2005.
Former President Akbar Hashemi Rafsanjani has said he is currently assessing the situation before making up his mind to enter the upcoming presidential election.
The conservative camp represented by three groups has not yet reached consensus on a single candidate ahead of the June presidential election.
Iran's Constitution stipulates that presidential candidates must be of Iranian origin, have Iranian citizenship, be religious or political figures, have managerial skills, have no criminal record, be trustworthy and pious, and have firm belief in the fundamental principles of Iran and the country's official religion.
The president of Iran is elected for a four-year term in a national election, and Iran's Guardian Council vets the candidates for qualifications.
From May 12-16, Iran's Guardian Council will look into each candidate, and determine whether a candidate is eligible for participating.
If a candidate, for some reason is not eligible for participating in the elections according to the Guardian Council, then from May 17-21, that candidate will have time to protest the decision.
Iran's Interior Ministry will unveil the names of candidates which are competitive enough to participate in the elections on May 22-23.
After the candidates have been determined, the pre-election campaigns would begin on May 24, and end on June 12.
Meanwhile, IRIB or the national Iranian TV and radio organization will provide each of the presidential candidates with 10 hours to introduce their plans, the IRIB head Ezzatollah Zarghami stated.
Each of the candidates will be provided 6 hours in the national TV and 4 hours on the national radio, he said.