Armenian separatists rename Azeri town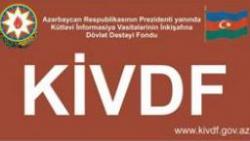 BAKU – Azerbaijan's town of Aghdam has been renamed by the separatist regime operating in the Armenia-occupied Upper (Nagorno) Karabakh region.
Aghdam was named "Akna" and "annexed" to the Asgaran region, under a decision that the Azerbaijani government has labeled as invalid.
Armenian media claimed that Akna was once the title of a neighborhood located in the center of Asgaran.
Armenia Today news agency reported that Sergei Nasibyan, a representative of the self-proclaimed Upper (Nagorno) Karabakh republic in charge of territorial administration, said the decision aimed to grant land plots to Aghdam residents and address their domestic problems.
"Since no status has yet been granted to Aghdam, this town has been included in Asgaran as an estate," Nasibyan said.
According to the separatist regime, 360 people currently reside in Aghdam. They are mainly engaged in animal husbandry and farming.
The Armenians who were settled in Aghdam say it is "a dead town" and are unhappy with their living standards, saying there is essentially no supply of electricity, drinking water and natural gas.
Elkhan Polukhov, the spokesman for the Azerbaijan Foreign Ministry, has reiterated that Baku does not recognize the separatist regime operating in the occupied Azerbaijani territories and considers all of its decisions null and void.
Azerbaijan and Armenia fought a lengthy war that ended with the signing of a cease-fire in 1994, but Armenia continues to occupy Nagorno Karabakh and seven other Azerbaijani districts in defiance of international law. OSCE-brokered peace talks have been largely fruitless so far.
Prior to its invasion by Armenian troops on July 23, 1993, the Aghdam district had an area of 1,094 square kilometers. About 70 percent of the region is currently under occupation. 128,000 people out of Aghdam's population of 150,000 have been ousted from their homes. Aghdam, with arable land of over 40,000 hectares, was considered in the past as one of Azerbaijan's regions with burgeoning agriculture.
This article is published under a project of the Foundation for State Assistance to the