Most ancient example of buta pattern found in Nakhchivan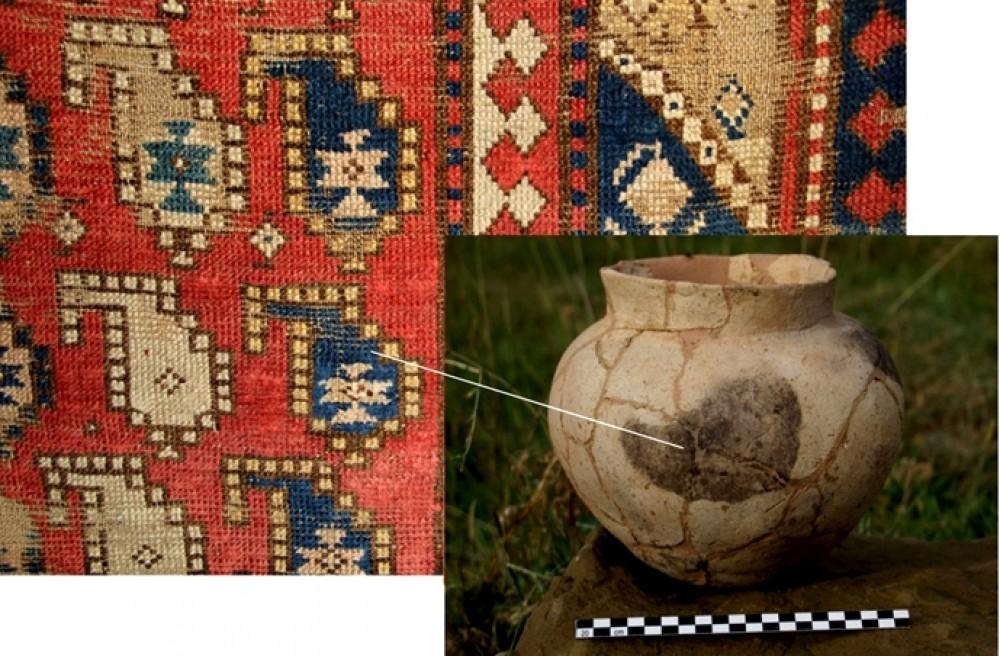 By Aygul Salmanova
As a result of the research carried out in Nakhchivan, the most ancient example of the buta pattern was found in the autonomous republic.
Head of the Department of Decorative and Applied Arts of the Institute of Art, Language and Literature of Nakhchivan Department of Azerbaijan National Academy of Science Fizza Guliyeva told Azertac about this finding.
She noted that buta patters on clay trays, observed during archaeological investigations in Nakhchivan in recent years, have prolonged the history of this pattern.
Researchers have found out that a number of such clay trays, considered to belong to the last Eneolithic period, were found on the Ovchular hill, and one was found in the Halac settlement. Three of such patterns were symmetrically painted in the hull part of these trays.
"We can say that the most ancient example of the buta pattern over the world is on the clay trays that we found in Nakhchivan. The results of investigations show, these patterns that have a long history, have been created by our great ancestors in ancient times," she said.
Buta, a twisted teardrop that has been a symbol of the divine fire and worshipped in Azerbaijan since ancient times.
Considered to be the prevalent decorative element of Azerbaijani Ornamental Art, Buta is a pattern which belongs to Fire-Worship Age.
It is widely used in carpets of Baku, Karabakh, Ganja, Nakhchivan, Salyan, Mugan, Ardabil, Tabriz, as well as in the interior design of buildings and other art works.
Widespread in the decorative and applied art of Central Asia and Middle East countries on the tirma shawl of India, on the textiles and manufactured products of Iran, buta has 4 forms: the one used in carpet decorations, represented in a family life, having symbolical meaning, and the one with different shapes of buta.
Today there are more than 1,500 historical and cultural monuments in Nakhchivan, of which about sixty have the status of world significance. Traces of the Stone Age era are found in the caves of Gazma, Askhabi-Kyahf and Kilid.
Fortress cities such as Oglangala, Karabaglar, Chalhangala and Govurgala were found in the territory of Nakhchivan at the end of the 4th - beginning of the 2nd millennium BC. Monuments of fine art like the rock paintings of Gyamigaya reflect the way of life and the religious and ideological outlook of ancient tribes inhabiting there.
It should also be noted that the first million from the state for excavations was allocated specifically for investigations in Nakhchivan. It is no coincidence, therefore, that of the forty archeological expeditions that are constantly working in the field today, about ten are in Nakhchivan. And ten years ago, in 2005, all archaeological monuments of the region passed certification.
--
Follow us on Twitter @AzerNewsAz