17 November 2014 10:24 (UTC+04:00)
2 280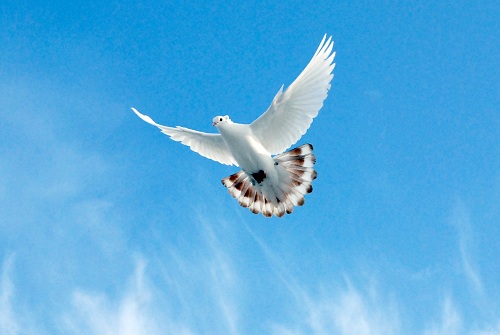 By Nigar Orujova
Every old city has its own captivating history and Baku is no exception.
One of its unusual and historic stories - its pigeon breeding that dates back to centuries ago -revives from time to time.
Pigeons may be deemed as the first domesticated bird in the world. Ancient Egyptians, Mesopotamians and Greek bred them, and everyone knows well today how Noah sent pigeons to see whether the flood had subsided or not.
Later, these birds were used to deliver post and for many times saved lives of many people by showing the right way. In the modern times, these functions are useless, however, people around the world still admire this noble bird.
In both calm and windy sky of Baku, you can see flights of snow-white pigeons. You can meet them in the crowded squares walking fearlessly and sometimes perky in a duck-legged manner, and hear their sweet talks in the shady alleys.
Pigeons are friendly and social creatures that prefer the human company rather than staying alone. This amicable bird rarely expresses aggression. They are nonthreatening even for children, who like to hold them in hand, on shoulders and even head.
Love of Baku dwellers to these beautiful birds of Peace is purely aesthetic. For generations, mostly city residents keep and breed pigeons to enjoy their bright plumage and soaring flight.
Baku pigeon is a specie breed. This breed is considered as one of the most enduring specie that can stay in the air up to 12 hours magnificently playing in the airflow.
Azerbaijanis pay special attention to the endurance and graceful flight. Baku pigeons go sky-high and make 5-7 rolls. Birds can roll in both horizontal and vertical flights.
The varieties of Baku pigeons are depending on the plumage. There are "agbash" pigeons with white plumage of the head, "aghdash" with white chest, and showy colored "chili".
There are also many other colors from white to black, as well as pigeons with tail and neck colored in the same color.
Pigeons are very devoted to their homes and even though they can fly all day long, always return home when the night arrives. Well-trained, the purebred Baku pigeon is capable of covering even a few hundred kilometers to find his homes.
Baku pigeons do not require special care. They just need to be kept clean, dry and away from danger, such as predators. However, there was a time, when it became harder to afford such a hobby.
After Soviet Union collapse, pigeon enthusiasts in Baku have tightened their belts to keep the tradition through the hard time.
Now, large flock of pigeons can only be find in the sky of settlements in the Absheron peninsula. Here the peaceful tradition is still preserved and anyone can enjoy it.
Related News