13 October 2014 09:44 (UTC+04:00)
1 673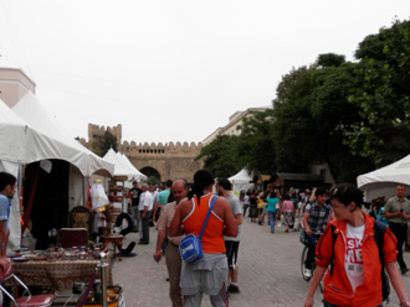 By Nigar Orujova
CIS countries remain the main region supplying tourists to Azerbaijan.
Cooperation with CIS countries is one of the main policy priorities of Azerbaijan in the field of tourism, Deputy Minister of Culture and Tourism Nazim Samadov said.
He made the remarks at a meeting of the Standing Commission of the CIS Interparliamentary Assembly on Culture, Information, Tourism and Sport on October 10.
"The main suppliers of tourists to Azerbaijan are Russia, Ukraine, Kazakhstan and other CIS countries. About 40 percent, out of more than 2.5 million foreigners who visited our country in 2013, were citizens of CIS countries," Samadov said.
The growth in the number of foreign citizens coming to Azerbaijan from Russia amounted to 3.1 percent, from Kazakhstan 11.6 percent, from Belarus - 17.2 percent, and from Ukraine 22.2 percent, he added.
There are 530 hotels functioning in Azerbaijan, and their number has doubled in seven years. The country attaches great attention to attract more tourists.
Speaking at the event, Deputy Minister of Youth and Sports Intigam Babayev said today 40-50 international competitions at various levels are held in Azerbaijan each year.
Sport is one of the priorities of Azerbaijan, he said. "Over the past nine months of this year, Azerbaijan held 120 local and 32 international competitions."
Babayev noted that in 1992, the Azerbaijani sportsmen won 23 medals in international competitions. The figure stood at 175 in 2002 and in 2013, it reached 782 medals.
He also talked about the implementation of government programs in the field of sports.
One of the important sport competition for the country is expected to be the inaugural European Games that will be held in Baku on June 12-28, 2015. These Games will attract over 6,000 athletes to fight in 20 sports.
The event also discussed the model laws on e-government, cross-border information exchange of electronic documents, volunteering, tourism activity, freedom of conscience, religion and religious organizations, and the basics of Internet regulation.
Related News