26 October 2017 13:20 (UTC+04:00)
1 786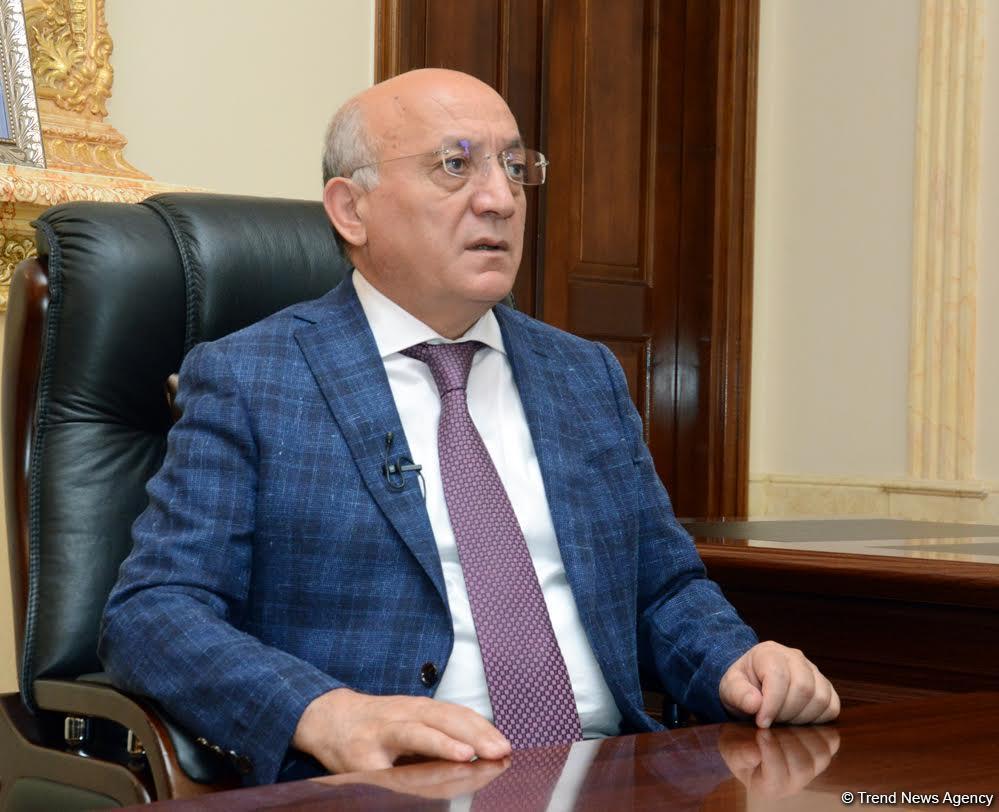 By Rashid Shirinov
The operation carried out by the State Security Service of Azerbaijan against religious extremists should become a signal to the circles that finance them, Mubariz Gurbanli, Chairman of Azerbaijan's State Committee for Work with Religious Organizations, said on October 26.
He made remarks while addressing a conference titled "Propaganda of our national moral values: yesterday, today and tomorrow" held in Baku.
"These circles should understand that the law enforcement bodies are in constant readiness in order to protect Azerbaijan's security and its citizens, social and political stability, and they will always resolutely stop such actions," Gurbanli said.
He further expressed confidence that such operations result from necessity, and that Azerbaijan must take decisive actions against people who want to commit terror in the country, and, having joined religious radical groups and with their participation, want to violate the social and political stability in Azerbaijan. Gurbanli said that Azerbaijan must condemn such people and expose them in society.
Yesterday, the State Security Service of Azerbaijan informed that as a result of a special operation, a group of individuals planning a terrorist attack during a rally in Baku was neutralized.
With the aim to commit a number of terrorist acts, this group made various handmade explosive objects and tested them on October 22 in Lokbatan settlement.
As a result of complex measures by the State Security Service, its special group killed the members of the criminal group – Bakhtiyar Alakbarov, Anar Masimli, Javid Huseynli, who resisted using firearms.
Mubariz Gurbanli also touched upon the return of Azerbaijani children from Iraq to Azerbaijan, saying that work is underway in this connection.
The chairman noted that it is important first to focus on how those children were taken out of the country.
"You see how large and negative consequences the actions of radical religious groups create. One of these consequences is that any Azerbaijani citizen falling under the influence of religious radical groups drives into a tragedy not only himself but also his children, taking them away with himself," Gurbanli said.
He added that relevant state agencies of Azerbaijan are engaged in this issue, and expressed confidence that Azerbaijani citizens in Iraq, especially women and children, will be brought back in Azerbaijan, and the relevant agencies will take the necessary measures in order to ensure their safety.
Gurbanli also commented on Armenia's baseless allegations saying that Azerbaijan allegedly destroys Armenian monuments. They were, in particular, reflected in the appeal signed at a meeting of religious leaders in Moscow, reading that "monuments are being destroyed by both sides."
"Armenians do not have any evidence that Azerbaijan destroyed any monuments," said Gurbanli, adding that Azerbaijan has irrefutable facts that the Armenian side massively destroys historical monuments in the occupied Azerbaijani lands and in the territory of the present state called Armenia, which was created on the lands that belonged to Azerbaijan in the past.
He also added that Armenians misappropriate churches belonging to the Caucasian Albania.
"This is a well-known fact, and the Armenian side, by distorting this document, is trying to spread such information. In fact, no accusations against the Azerbaijani side were made in that document, and Armenians do not have any facts confirming destruction of monuments by Azerbaijan," Gurbanli noted. "Armenians, as always, are again engaged in fictions."
Since the beginning of the Armenian-Azerbaijani Nagorno-Karabakh conflict and occupation of Azerbaijani territories, the Armenian aggressors destroyed 1,200 historical and architectural monuments, looted 27 museums, and over 100,000 items were exported to Armenia. In addition, the Armenian occupiers destroyed 152 religious monuments and 62 mosques, 4.6 million books in 927 libraries, including the Holy Quran and rare Islamic manuscripts.
---
Rashid Shirinov is AzerNews' staff journalist, follow him on Twitter: @RashidShirinov
Follow us on Twitter @AzerNewsAz