21 August 2013 18:19 (UTC+04:00)
839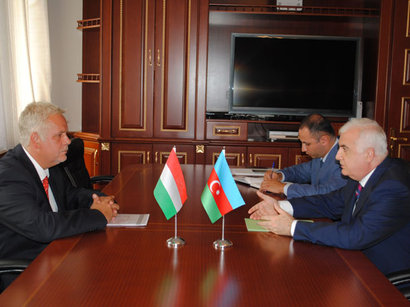 By Aynur Jafarova
The economic relations between Azerbaijan and Hungary continue to develop as the parties have discussed prospects of developing their cooperation in the agriculture sector.
Relevant issues were mulled as Azerbaijani Agriculture Minister Ismet Abbasov met with Hungarian Ambassador to Azerbaijan Zsolt Csutora on August 21.
Abbasov said that Azerbaijan-Hungary relations, including in agriculture, are developing successfully and dynamically.
The minister also cited great potential for the development of agricultural cooperation and the importance of direct contacts between relevant entities of the two countries for the realization of this potential.
The Hungarian ambassador, for his part, informed the minister about the 7th agricultural exhibition which will be held in the Hungarian city of Kaposvar from August 30 to September 1 and invited the Azerbaijani side to participate in it.
Abbasov thanked the ambassador for the invitation and noted that he will attend this exhibition in person or will be accompanied by the deputy minister.
Hungary recognized the independence of Azerbaijan in 1991, while diplomatic relations between the two countries were established in April 1992.
The Azerbaijani-Hungarian relations are at a high level and are based on respect, friendship and mutual interests. The high-level relations between the two countries pave the way for the development of cooperation in economics and other fields.
Moreover, Azerbaijan and Hungary have great opportunities for the expansion of economic cooperation, establishment of relations between the players of the securities market as well as exchange of experience and knowledge in this sector.
A trading house was established in Azerbaijan in 2012 to develop the country's cooperation with medium-sized businesses from Hungary.
In March, Hungarian State Secretary in the Ministry of Rural Development Gyula Budai told media that Hungary intends to expand its cooperation with Azerbaijan in the field of agriculture. According to him, Hungary is interested in exporting cattle to Azerbaijan.
Recently, 200 pedigree Holstein dairy cattle, Sharole, 200 Limuzin, Simmental meat breeds with high genetic characteristics were brought to Karabakh Agrarian Industry Complex from Hungary with financial support of the National Fund for Entrepreneurship Support.
It is planned to bring 900 Simmental pedigree cows to the complex at the next stage. The number of pedigree calves imported from Hungary will be 10,000 by the end of 2013.
Related News