25 September 2013 09:20 (UTC+04:00)
707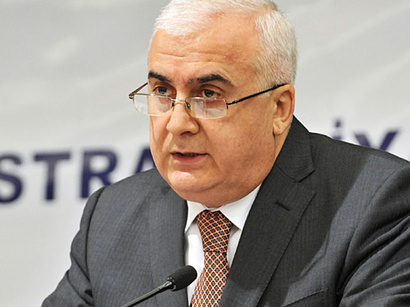 Aynur Jafarova
The state joint-stock company Agroleasing was granted 518.97 million manats (around $661 million) from Azerbaijan's state budget and other sources in 2005-2012, according to Agriculture Minister Ismet Abbasov.
The minister said in an article covering the development of Azerbaijan's agriculture sector in the past decade, published on September 23, that the activity of the leasing company, which was established in 2004 under an order of President Ilham Aliyev, is expanding year-on-year.
"Of these funds, some 191.21 million manats were spent on the purchase of agricultural machinery, 113.79 million manats on technological equipment, 114.55 million manats on fertilizers, 22.86 million manats on cattle breeding and another 50.5 million manats on construction work. Besides, the JSC spent some 50.5 million manats and 21.94 million manats on improving the logistics from the funds received as a result of its operation," the article said.
The minister further wrote that under a decree of the President, in July this year some 15 million manats were allocated to Agroleasing to eliminate the lack of combined harvesters. Farmers had faced a problem relating to the lack of such machines during the harvesting.
"With the help of the JSC funding, 150 Finnish-made combine harvesters were purchased and delivered to the country," Abbasov said in the article.
Agroleasing JSC, which is on the balance sheet of the Agriculture Ministry, was established in October 2004. The enterprise focuses on the improvement of the agricultural sector and support for entrepreneurship in the country through the purchase and leasing of various agricultural machines to local landowners.
The official exchange rate for September 23 is 0.7844 AZN (manats) per USD.
Abbasov also said that total agricultural production in Azerbaijan is expected to grow six to seven percent in 2013.
According to the article, in the first half of 2013 Azerbaijan produced agricultural goods worth 2.123 billion manats.
In order to provide crops in 2013, fall and spring cereals excluding maize were grown on 1.033 million hectares of land, of which 67 percent, or 690,819 hectares, was used to grow wheat. As of August 12, 2013, the harvest was completed on over 99 percent of the crop sowing area, the article said.
The minister stressed that the harvest volume increased by 4.3 percent compared to the same period of last year.
"Some 2.72 million tons of grain and grain legumes except maize were collected, of which 1.88 million tons was wheat. By the end of this year 2.9 million tons of grain are expected to be collected, which is 100,000 tons above last year," the article says.
Abbasov said Azerbaijan achieved significant success in strengthening food security in 2003-2012 and the state program on reliable food supply of the Azerbaijani population in 2008-2015 has played a special role in making this happen. As a result of its successful implementation, impressive results on increase of the volume of produced goods were achieved. In the period from 2003 to 2012 the production of grain per capita increased, along with that of potatoes, vegetables, sugar beets, fruits and berries, meat, milk, etc., according to the article.
According to Abbasov, high growth is also observed in per capita food production.
The Agriculture Minister went on to say that over the past period from 2003 to 2012 the sown areas of grain crops increased by 32.77 percent.
"Much success has been achieved in the field of plant breeding, the largest agricultural sector of the country. Thus, since 2003 the sown areas of grain crops increased from 776,300 to 10,30,700 hectares (including wheat - from 595,200 to 687,300 hectares), potatoes - from 59,300 to 66,000 hectares, fruits - from 88,400 to 133,500 hectares, grapes - from 7,700 to 16.300 hectares," the article said.
According to Abbasov, the increase of sown areas has led to the achievement of significant successes in production.
"Thus, between 2003 and 2012, grain production increased from 2.06 to 2.8 million tons (including wheat - from 1.5 to 1.85 million tons), potatoes - from 769 to 968.5 million tons, vegetables - from 1.046 to 1.216 million tons, watermelons - from 356,700 to 428,000 tons, fruits - from 572.100 to 810,000 tons, grapes - from 65,000 to 150,900 tons," the minister underscored.
Related News