8 May 2013 10:55 (UTC+04:00)
739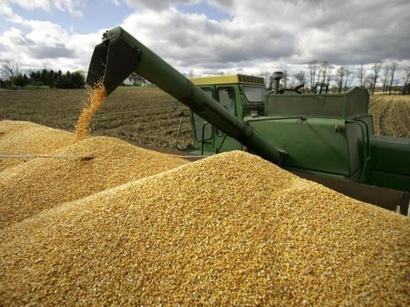 By Aynur Jafarova
The volume of wheat production in Azerbaijan is expected to reach at least 2.8 million tons in 2013.
"Although previously the maximum output was predicted at this level, now, according to information received from the regions and the ministry's officials assigned to the regions, this figure, I believe, will be higher this year," Minister of Agriculture Ismet Abbasov said Tuesday.
Nonetheless, Abbasov said, Azerbaijan's dependence on imports will remain.
"Wheat is not only for food, but is also used as fodder. In accordance with the president's order, we have started working on creating large farms. In the future we will be able to fully provide ourselves with all kinds of agricultural products, including wheat for food," the minister said.
It was earlier reported that Azerbaijan plans to fully meet its demand for wheat thanks to domestic production. According to the forecasts for 2013, about 700,000 hectares of land will be used for wheat sowing.
The establishment of large grain farms has already begun in Beylagan and Aghjabedi regions of Azerbaijan, with the main aim to meet the wheat demand of the population.
Related News