25 December 2018 10:06 (UTC+04:00)
1 744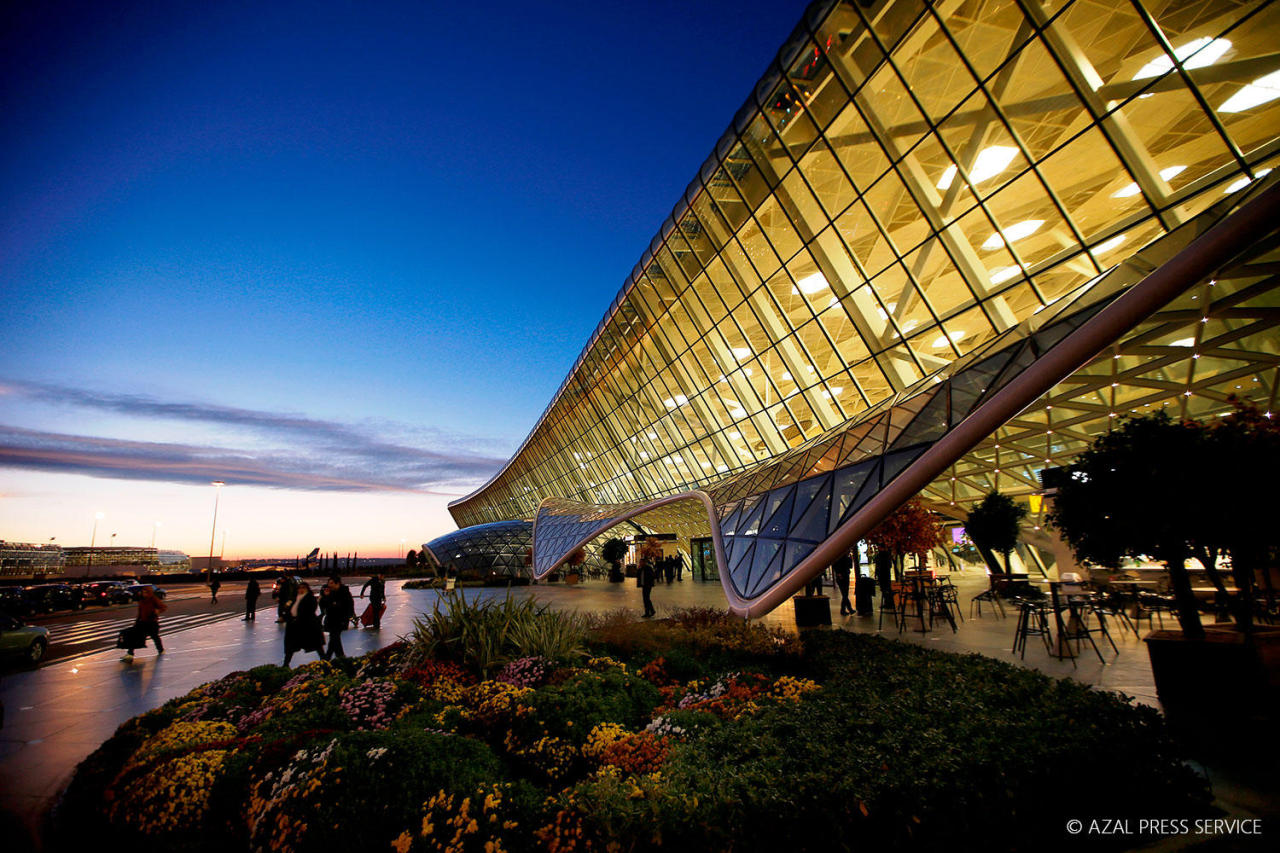 By Narmina Mammadova
Heydar Aliyev International Airport in Baku, Azerbaijan and Vilnius International Airport in Lithuania may arrange transfer passenger flow, Lithuanian Ministry of Transport and Communications told Trend.
"Potential transfer passenger flow via Heydar Aliyev International Airport from Vilnius International Airport might be generated to such destinations as: Bahrain International Airport, Bangkok International Airport, Beijing Capital International Airport, Dubai International Airport and Islam Karimov Tashkent International Airport. These destinations are not directly served from Vilnius International Airport and have significant passenger traffic," said the ministry.
As per last year passenger flow statistics, the Lithuanian Transport and Communications Ministry said that there were around 5,510 passengers travelling between Lithuania and Azerbaijan, mainly on Vilnius International Airport – Heydar Aliyev International Airport route.
"As for today representatives of Lithuanian airports haven't approached Azerbaijan Airlines yet due to the fact that passenger traffic is very low to initiate negotiations about direct flight possibilities," said the ministry.
In 2019, Azerbaijan and Lithuania will celebrate 100 years since the establishment of diplomatic relations - in mid-war period there was a consular section of the Republic of Lithuania in Baku.
According to Azerbaijan's State Customs Committee, trade turnover with Lithuania amounted to almost $26.2 million in 2017. The two countries' trade turnover rose by 51.8 percent during the year.
Heydar Aliyev International Airport is one of the six international airports serving Azerbaijan. Formerly, it was called Bina International Airport by the name of a suburb in Baku. On 10 March 2004, the airport was renamed for the former president Heydar Aliyev, the third President of Azerbaijan. The airport is located 20 kilometers northeast of Baku, connected to the city by a modern highway, which was put into operation in 2008. It is the busiest airport in Azerbaijan and of the Caucasus. The airport serves as the home base for flag carrier Azerbaijan Airlines and its subsidiary Buta Airways as well as freight carrier Silk Way Airlines.
Two passenger terminals (International Terminal 1 and Domestic Terminal 2) and two cargo terminals operate at the Heydar Aliyev International Airport. The old terminal built in Soviet times, was entirely demolished and replaced by the new Terminal 1. The four-level engineering concept was developed in July 2010 by Arup company, with a tricorn shape and semi transparent roof. The total area is 65,000 square meters. The interior, designed by Turkish company AUTOBAN, has a series of oak-veneer 'cocoons'.
Heydar Aliyev International Airport, located in Baku, Azerbaijan, is among 14 most beautiful airports in the world, according to the rating made by Curbed, an American real-estate blog network.
Located in the capital of Azerbaijan, the Heydar Aliyev International Airport terminal features giant wooden cocoons designed by Turkish architecture studio Autoban.
Light streams in through the concave external glass walls, and each cocoon houses cafes, bars, stores, and amenities, like a children's play area. Diamond patterns on the atrium floors mimic the wooden shingles of the cocoon. The airport can handle more than 5 million passengers each year.
The Heydar Aliyev International Airport of the Azerbaijani capital has been listed among the top three unusual airports in the world, according to Hi-Tech.
The publication noted that the main airport of Azerbaijan, which is one of the largest in the CIS, due to its unusual shape, is often compared to a bird with its wings spread.
Earlier it became known that Heydar Aliyev International Airport in Baku may serve as a hub to bring tourists from the Caspian region into Spain.
During eleven months of 2018, Heydar Aliyev International Airport served 4.1 million passengers. This indicator exceeds the same indicator of the previous year by 9 percent.
National air carrier Azerbaijan Airlines (AZAL) carried 1 million 756,000 passengers, while national low-cost airline Buta Airways – 411,000 passengers.
3.54 million passengers (86 percent of passenger traffic) accounted for international flights since the beginning of the year. 34 percent of total number of international passengers accounted for AZAL, while 11.6 percent - Buta Airways.
In addition to AZAL and Buta Airways carrying out international passenger flights in November, the top ten airlines also included FlyDubai, Turkish Airlines, Air Arabia, Aeroflot, UIA (International Airlines of Ukraine), Qatar Airways, Utair, SCAT, Lufthansa and S7 Airlines. In total they served 118,000 passengers.
Currently, Heydar Aliyev International Airport serves more than 30 airlines on over 40 destinations. Top ten most popular international destinations include Istanbul, Moscow, Dubai, Kiev, Sharjah, Tehran, Baghdad, Tbilisi, Doha and Tel Aviv. 196,000 passengers traveled to these destinations during this period.
---
Follow us on Twitter @AzerNewsAz