Azerbaijan, Iran keen on developing ties among regions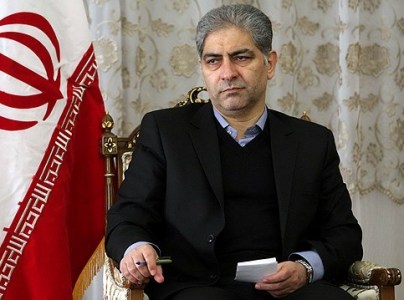 By Aynur Karimova
Azerbaijan and Iran, the two neighboring countries that have had diplomatic relations since 1918, are successfully developing relations at the state level.
The two countries are keen on developing ties among their regions as well. This aim was reiterated during meetings of Iranian delegation led by Governor of the country's East Azerbaijan Province, Esmail Jabbarzadeh, in Azerbaijan on October 19-21.
The main step toward developing bilateral ties would be overall joint activity based on the principles of friendship and brotherhood, Azerbaijani President Ilham Aliyev said at a meeting with the Iranian delegation on October 20.
President Aliyev believes that the reciprocal visits of the top officials of the two countries are of significant importance for developing bilateral ties. After an official visit by Iranian President Hassan Rouhani to Azerbaijan and Azerbaijani President Ilham Aliyev's trip to Iran, bilateral relations between the countries entered a new stage.
Today, the development of cooperation in political, economic, energy, transport, trade, healthcare and other fields are satisfactory, the president noted.
Touching upon joint projects including the Iran-Azerbaijan railway, President Aliyev praised the regional importance of these projects, and emphasized the successful role both countries have in strengthening stability in the region.
Jabbarzadeh, in turn, recalled his meeting with national leader of Azerbaijan Heydar Aliyev with great respect, and said that Iran established excellent relations with Nakhchivan at that time.
Political ties successfully develop
After Azerbaijan gained independence in 1991, Iran was among the first countries that established diplomatic relations with Azerbaijan. Since then, political relations between the two countries have developed tremendously.
Azerbaijan and Iran are bound together by historical, cultural and religious ties and today, they enjoy the development of friendly and good neighborhood relations, Azerbaijan's Foreign Minister Elmar Mammadyarov said at a meeting with Jabbarzadeh.
Jabbarzadeh, who provided comprehensive information about East Azerbaijan Province, said that there are favorable opportunities for cooperation in the fields of tourism, healthcare, science, culture and the exchange of medical students.
The sides stressed the importance of the intergovernmental cooperation commission and the organization of joint business forums in terms of promoting bilateral economic and trade relations.
As part of the visit to Baku, the Iranian delegation was also received by Minister of Emergency Situations, Kamaladdin Heydarov, and Economy and Industry Minister Shahin Mustafayev.
Azerbaijan and Iran are also interested in developing ties not only in the political, but also in the economic field.
The two countries, both rich with hydrocarbon resources, are planning to establish a joint venture that will be engaged in the supply of products from the Tabriz refinery to the world market, Jabbarzadeh told Trend.
"Tabriz has an oil refinery, and we agreed to use this opportunity and establish a joint venture that will supply the plant's products to world markets," he said after a meeting with Minister Mustafayev. "In addition, we discussed the issue of the establishment of joint companies and enterprises that will operate on the Russian and Central Asian markets."
Azerbaijan and Iran are focused on expanding economic ties in various fields, including industry, agriculture, energy, alternative energy, and transportation.
In 2014, the trade turnover between the two countries amounted to $186.6 million.
Iran's export to Azerbaijan during the first half of 2015 decreased 55.36 percent to $42.52 million year-on-year. Azerbaijan's export to Iran also decreased 67.11 percent to $11.16 million during that period.
--
Aynur Karimova is AzerNews' staff journalist, follow her on Twitter: @Aynur_Karimova
Follow us on Twitter @AzerNewsAz